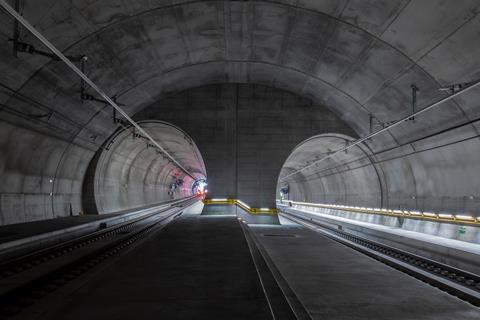 SWITZERLAND: Test running has restarted in the 15∙4 km Ceneri Base Tunnel at the southern end of the Gotthard corridor.
Agreement for the tests to resume on April 20 was reached after tunnel contractor AlpTransit Gotthard AG concluded discussions with medical specialists at operator SBB and the Federal Office for Public Health about measures to protect staff against coronavirus.
Testing is being conducted under strict conditions with continuous monitoring to ensure that public health requirements are met and that staff are provided with adequate protection. AlpTransit Gotthard is appointing a manager for each shift to ensure that public health guidelines and all specified procedures are respected, and testing will be adapted accordingly.
AlpTransit Gotthard had resumed maintenance and ongoing installation work in the Ceneri Base Tunnel on April 6 following approval from the Ticino canton. Before this could restart, agreements covering procedures and control processes were reached with Swiss insurance agency SUVA, subcontractors, trade unions and other organisations involved. Experience showed that the specified hygiene and health regulations could be met as work progressed.
At the end of April AlpTransit Gotthard will assess the situation jointly with SBB and the Federal Office for Transport to determine what impact the revised testing programme will have on the planned inauguration of the Base Tunnel in September and the scheduled opening to regular commercial traffic in December.
Work on the Base Tunnel through the Ceneri massif between Bellinzona and Lugano commenced in 2007. The tunnel represents one of the last major projects in the AlpTransit programme to provide high-capacity north-south routes through the Swiss Alps. Until the coronavirus pandemic interrupted the programme, work to improve clearances on the main line from Basel to Chiasso for trains to carry 4 m high semitrailers was being carried out in parallel, and this too was expected to be completed this year.