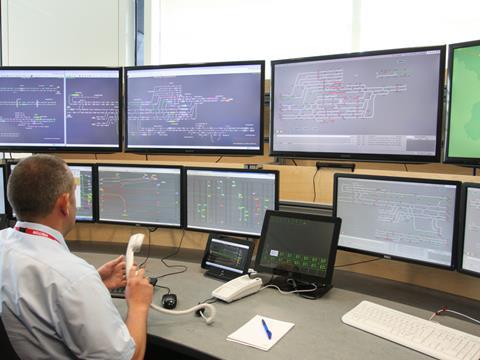 UK: Infrastructure manager Network Rail has formally confirmed Thales UK as the winner of the first two contracts for the deployment of the national Traffic Management System.
Network Rail is planning to consolidate control of Great Britain's rail network from more than 800 signalboxes into 12 rail operating centres over the next 15-30 years, and believes this will save up to £250m/year. It had selected Thales, the Signalling Solutions Ltd joint venture of Alstom Transport and Balfour Beatty Rail and Hitachi Rail Europe to develop prototype TMS offices based on their existing systems for testing.
Under the contracts worth a total of £28∙8m which were announced on May 29, Thales is to install its ARAMIS Traffic Management System at two Regional Operating Centres in Romford and Cardiff by December 2015. Thales said ARAMIS is already used to control more than 60 000 trains/day in 11 countries with 'complex mixed traffic networks similar to the UK'.
Under a separate £3∙4m contract, SSL will develop, supply and support the interface between TMS and external systems.
Network Rail said contracts for the national roll-out of TMS will be the subject of separate competitions which will involve 'all current traffic management framework holders'.
Regional Operating Centres
Existing locations
Cardiff
Derby
Didcot
Edinburgh
Glasgow
Gillingham
New buildings
Basingstoke
Manchester
Romford
Rugby
Three Bridges
York