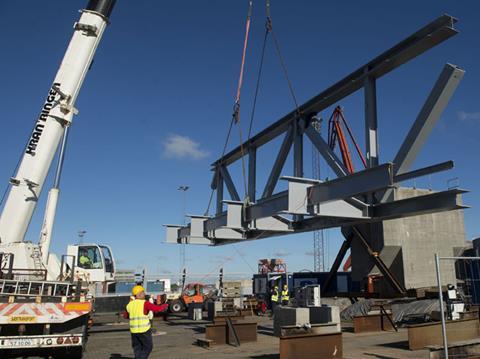 DENMARK: Infrastructure manager Banedanmeark and engineering company MT Højgaard have announced delays to the reopening of the Limfjorden bridge at Aalborg, which was hit by a container ship on March 28.
On April 21 the damaged section of the lifting bridge was removed to allow maritime traffic to resume, but this left the railway line to the north isolated from the rest of the network. MT Højgaard was awarded the contract to build a replacement lifting section for the bridge on May 7, with reopening then planned for November. Media reports cite welding issues as the main reason for the latest delays.
No revised date for reopening has been announced, but it is expected that the bridge will now be operational early next year.
In the mean time, DSB plans to transfer two IC3 and eight MR diesel multiple-units to the currently isolated line via Sweden, using a ferry from Göteborg to Frederikshavn. This would allow a train service in the north to restart on December 9, with buses between Lindholm and Aalborg.