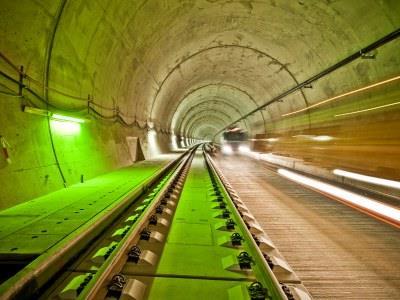 AUSTRIA: ÖBB Infrastructurebau AG confirmed on December 3 that tunnelling works for the Unterinntal capacity enhancement project had been officially completed with the installation of the final lining segments for the Radfeld tunnel.
Work on building a second double-track line over the 40 km Kundl – Baumkirchen route has been underway since 2002, at a cost of around €1·35bn. The line is intended to relieve a bottleneck on the existing Wörgl – Innsbruck route, where the country's east-west trunk route is shared by north-south services in the Brenner corridor. No less than 32 km of double-track tunnel is required for the new line, which is now expected to open in December 2012.
According to ÖBB Infrastructurebau, tunnelling work has been underway around the clock since August 2003, with the works divided into 10 sections. The 5·7 km Münster – Wiesing tunnel near Jenbach was holed through in February 2009, and work on the 1·6 km cut-and-cover tunnel at Radfeld began in April 2008; construction has been progressing at around 20 m per week.
In order to meet the opening deadline, the installation of the railway systems is underway at full speed, with around 1 km of track being laid each week. The project also requires the laying of 2 200 km of cabling.
Read our article on the Unterinntalbahn project in the April 2004 issue of Railway Gazette International - available to subscribers in our digital archive.