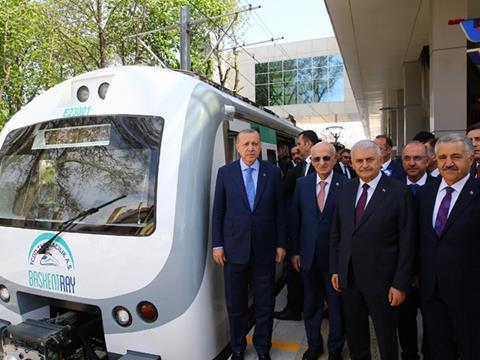 TURKEY: President Recep Tayyip Erdoğan and Prime Minister Binali Yıldırım attended a ceremony on April 12 to mark the reopening of the Başkentray suburban line in Ankara following its upgrade.
The 37 km route between Kayaş in the east and Sincan in the west, operated with a fleet of 32 three-car Hyundai Rotem electric multiple-units, has been remodelled to segregate services. There are now five tracks between Sincan and Behiçbey: two for Başkentray trains, two for high speed services and one for conventional long-distance trains. This increases to six tracks between Behiçbey and Ankara, with an extra track available for conventional services. Between Ankara and Kayas there are two suburban tracks, with high speed and conventional long-distance services having one each.
All 24 level crossings on the route have been removed and all 23 stations have been rebuilt to improve accessibility. Electrification equipment has been renewed and signalling upgraded. The signalling supplied by Thales enables 2½ min headways, although 5 min peak headways are planned; services are initially running at 15 min intervals.
The end-to-end journey time for suburban services has been reduced from 59 min to 49 min, with high speed trains now travelling between Ankara and Sincan in 11 min rather than 17 min. Ridership on Başkentray is estimated to grow to 520 000 passengers a day.
Work on the TL1·23bn project started on July 11 2016 and was undertaken by a Gülermak-Kolin consortium. Test running started on February 28.
A feature article on Ankara appears in the Spring 2017 issue of Metro Report International, available to subscribers in our digital archive.