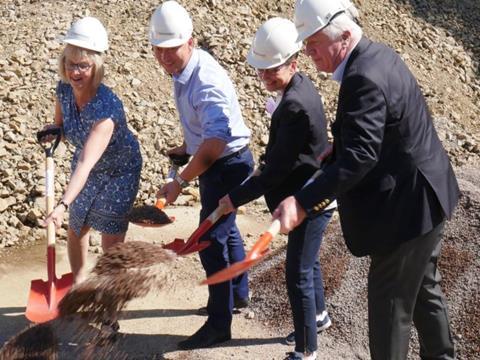 SWEDEN: Construction of the Västlänken cross-city tunnel in Göteborg was officially launched on May 30, with a groundbreaking ceremony attended by Mattias Landgren, State Secretary at the Ministry of Industry, Trafikverket Director General Lena Erixon, Johnny Magnusson, Chairman of Västra Götaland region and the leader of Göteborg City Council Ann-Sofie Hermansson.
Due for opening in 2026, the link includes 8 km of double-track tunnel and three four-track stations. Diverging from the existing network east of the city and passing below the main station at Göteborg C, the line will loop around the city centre to rejoin the West Coast Line heading south. As well as enabling regional trains to better serve the city, it will avoid the need for through trains to reverse.
Västlänken is 'a vital piece of the jigsaw', said Erixon, supporting the government's objective to encourage modal shift of freight and passenger traffic to rail and reduce the environmental impact of transport.
The cross-city tunnel is the largest single element in the 'West Sweden Packet', paving the way for a series of other enhancements to the local rail network. The Västra Götaland region would like to see double-tracking of the line to Stenungsund, increased capacity on the Bohusbanan and the West Coast Main Line, and a new double-track line between Göteborg and Borås which could eventually form part of the proposed Stockholm – Göteborg high speed line.
Describing the occasion as 'a big day and really good for Göteborg', Hermansson said the line would bring 'more and better public transport, a more efficient labour market, where many more have the opportunity to commute to and from work and a solution that benefits urban development. This is an project for the future with significant benefits.'
Read more about the Västlänken project in the December 2016 issue of Railway Gazette International magazine, available to subscribers in our digital archive.