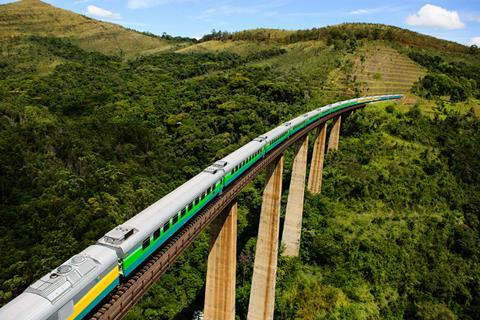 BRAZIL: Construction of an 80 km branch off the 1 000 mm gauge Estrado de Ferro Vitória a Minas to serve Anchieta is expected to start within two years.
Detailed plans for the R$6bn project were unveiled by the state government of Espírito Santo and mining group Vale at a press conference in Vitória on July 12.
The line would run from Santa Leopoldina, between Fundão and Vitória, to Anchieta via Cariacica, Viana and Guarapari. From Anchieta a 20 km spur would continue to the port of Ubu.
Studies covering the alignment and its environmental impact have been completed over the last two years and purchase of land and properties is expected to start shortly. Further preparation work is required and licences are needed before construction can begin.
Noting that the project had been monitored by a working group co-ordinated by the Espírito Santo state government, Vale's Director of Regulatory Affairs Marcelo Sampaio, a former minister for infrastructure in the government of Jair Bolsonaro, said that 'we have made great progress in development of the project…from the moment we receive all the licences and permission for the works, it will take about 60 months to implement the railway'.
State Governor Renato Casagrande wanted to 'thank everyone at Vale who is here presenting this project that is so well thought out'. Enthusing about co-operation between Vale and the state, he said 'from now on, there's a schedule, a deadline, and we can all help. The bottlenecks now are expropriations and environmental licenses … we will do our part to support the company in starting work as soon as possible'.
State Secretary for Development Ricardo Ferraço highlighted the collaborative nature of the project: 'this is not a government project or a Vale project, it is a project of the state of Espírito Santo, which will be a vector for much prosperity and generation of opportunities, mainly in the south of Espírito Santo'.
President of the Federation of Industries of Espírito Santo Cris Samorini noted that the project would 'attract investment and strengthen the Espírito Santo logistics complex and favour the flow of cargo along the coast'.
Vale has also drawn up plans for an 87 km extension of the route beyond Anchieta to Presidente Kennedy. This would form a further stage in the EF118 project to build a 580 km rail link inland from the Atlantic coast to São João da Barra and Nova Iguaçu, northwest of Rio de Janeiro.