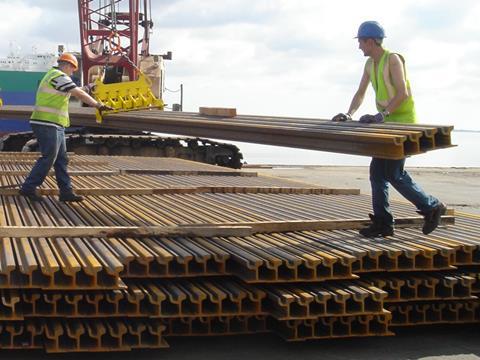 Algeria: Enterprise du Metro d'Alger has awarded a consortium of Alstom and Yapi Merkezi a €380m contract to build the 15·5 km eastern and 7·2 km southern lines of the planned tram network in Sétif.
Argentina: ADIF has awarded Comsa EMTE an €11m contract to build a new 20 km alignment avoiding the centre of Chascomús. It is expected to take nine months to complete and cut 20 min from the journey time between Buenos Aires and Mar del Plata.
ArcelorMittal Poland is supplying 10000 tonnes of 54·8 kg/m rail to ADIF for track renewals projects including the upgrade of the Buenos Aires – Rosario route (RG 10.13 p33).
Australia: York Civil has won a A$31m contract to extend the North Quay Rail Terminal at Fremantle Port to improve access for container transhipment and shorten turnaround times from June 2014.
Belarus: AZD Praha has won a KC300m contract to supply signalling and interlockings for Zhlobin in partnership with local firm BEZ.
Chile: Eurovia subsidiary ETF has been awarded a €150m contract to build and maintain for 20 years track and catenary on Santiago metro lines 3 and 6. The contract covers 75 track-km and 15 track-km in two depots.
Czech Republic: Viamont DSP has begun a KC1·36bn upgrade of tracks on the busy 9 km section of Corridor 1 between Praha Bechovice and Úvaly, currently a major bottleneck.
The Rezol consortium of OHL ZS and Alpine Bau CZ has begun a KC3·1bn modernisation of the Olomouc station area, including 16·8 km of track.
Denmark: Banedanmark has awarded a MJ Eriksson/Züblin joint venture a DKr562m contract for civil works on the 18 km Ishøj – Køge section of the 60 km New Line København – Ringsted (RG 10.13 p43). The scope includes 20 bridges and 19 wildlife crossings.
The Copenhagen Metro Team civil works joint venture has selected Intertek to supply three types of networked corrosion and stray current sensor to monitor any infrastructure degradation on the KØbenhavn Cityringen, which is scheduled to open in 2018.
France: The Thaumasia consortium of Bouygues Travaux Publics, Solétanche Bachy, CSM Bessac, Systra, Colas Midi Méditerranée, SNAF Routes and Garelli has won a €270m contract to build the 3·2 km underground section of the 11·3 km Nice tram Line 2. Work is to begin in the second half of 2014 for opening in late 2017.
Poland: PKP SA has awarded Kapsch CarrierCom and Torpol a €41·5m contract to supply and support GSM-R for the 329 km Kunowice – Terespol section of line E20.
KZN Rail is to build 2·5 km of grassed tracks to extend the Toru tramway to the university.
Bombardier is to supply SOP-2 cab signalling equipment for the Warszawa metro at a cost of 24m złoty.
Singapore: SMRT has awarded Gammon Construction a £61m contract to replace timber sleepers with concrete on the North-South Line.
Slovakia: The MHD-Starý Most consortium of Eurovia SK Košice, Eurovia CS and SMP CZ is to build a 2·4 km tram line from central Bratislava to the suburb of Petrzalka by August 2015, including rehabilitation of the Old Bridge. The EU is to fund 85% of the €58·8m cost.
Slovenia: Thales and Bombardier are undertaking ETCS Level 1 testing on the Sezana – Pivka and Hodos – Murska Sobota routes.
Spain: As part of the Mediterranean Corridor project, Tecsa, Dragados and SEMI have been awarded a €18·7m contract to install a third rail for standard gauge services between Valencia Nord and Sagunt.
ADIF has awarded Eiffage Energia and CHM Obras e Infraestructuras a €13·6m contract to supply and maintain a substation and four auto-transformer stations for electrification of the Medina del Campo – Salamanca section of the Medina – Fuentes de Oñoro route.
Turkey: Huawei is to supply GSM-R for the 367 km Kayas – Kayseri route.
UK: On October 12-14 Siemens Rail Automation comissioned the 45 km Crewe – Shrewsbury modular signalling pilot project; the line is now run from a control centre in Cardiff.
Network Rail has ordered eight Type 69.70 MMS mobile maintenance systems from Robel for use on the LNE and Kent routes. The self-propelled three-car units are due to be delivered in 22 months at a cost of around €50m.
USA: New York MTA has awarded a consortium of Siemens and Bombardier a contract worth up to $428m to install PTC on the Metro-North Railroad and Long Island Rail Road commuter networks, a total of 1 100 km of track and 1 500 vehicles.
Denver RTD has selected the GBBH joint venture for the $343m North Metro Rail Line design-build contract. GBBH includes Balfour Beatty Rail (50%) Graham Contracting, Hamon Contractors, Stantec Consulting Services and subconsultant Parsons Brinckerhoff. Work is scheduled to begin in early 2014 and take four years.