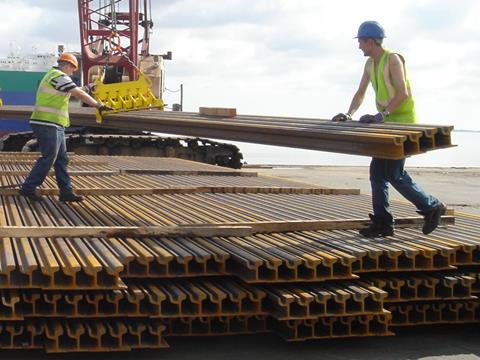 Belarus: Tines and Unibep have signed an MoU with the city of Vitebsk for the modernisation of 20 km of tram tracks in 2017-20.
Belgium: Infrabel has completed a €21m project to deploy a Traffic Management System supplied by CSC, brought into use overnight on Nov­ember 11. Identical to a system used by Swiss Federal Railways, it monitors movements in real time to alert controllers to conflicts and enables operators to provide passengers with train-running information updated every 2 sec.
Bulgaria: NKZI has awarded the TreysGrupHold, Infrastrukturno stroitelstvo and RVP Iliyantsi a 63·5m leva contract for track, electrification and signalling renewals on the 26 km Skutare - Orizovo line.
Canada: PowerTrunk is to expand Toronto Transit Commission's Tetra network to support computer-aided dispatch and automatic vehicle location.
Ecuador: The consortium of Acciona and Odebrecht which is building Quito Metro Line 1 has appointed Siemens to supply electrification systems for the 22 km line. The scope includes 46 km of rigid and 6 km of conventional catenary, 11 traction substations, 29 auxiliary power supplies and Scada.
Germany: DB Netz has approved the national roll-out of 800 Strukton data loggers to monitor more than 12500 point machines, following a successful pilot programme which involved 100 data loggers on 1000 machines.
Poland: PKP LHS has awarded ZA Kombud and Torpol a 24·5m złoty contract for signalling and level crossing renewals around Zamo Bortatycze. KZA PAiT and Elkol are to renew signalling at Sawków and Bukowno.
A consortium of Budimex, Strabag and ZUE is to undertake a 196·4m modernisation of the Warszawa Zachodnia - Gdaska line which enables trains to avoid the centre of the capital.
Trakcja PRKiI, Comsa, PKP Energetyka and Porr are to modernise the 16 km Jaworzno Szczakowa - Trzebinia section of the E30 corridor for 365m złoty.
Serbia: The Bombardier Transportation (Signal) Ltd joint venture of Bombardier and RZD has begun work on the first signalling project to be undertaken by Bombardier under the terms of an MoU with RZD International signed in June. The project covers the 77·6 km Resnik - Valjevo section of the route from Beograd to Bar.
Minister of Construction, Transport & Infrastructure Zorana Mihajlovi signed a US$319m agreement with China Railway International and China Communications Construction Co on November 5 for the modernisation of the 34·5 km Beograd - Stara Pazova section of the Beograd - Budapest route. Local companies will be able to bid for up to 46% of the work by value. An MoU was also signed with China EximBank for a loan to finance the modernisation of the 184 km Serbian section of the Beograd - Budapest route.
Singapore: LTA has awarded Lum Chang Building Contractors a S$325m contract to build a new platform at Tanah Merah and link the East-West Line to the East Coast Integrated Depot.
Spain: ADIF has awarded a Siemens -Bombardier joint venture a €15m contract to install electronic interlockings at Gavà and Castelldefels on the Barcelona - Sant Vicenç de Calders route. The contract includes 20 years of maintenance of signalling and telecoms.
ADIF has awarded Sistemas y Montajes Industriales and Kapsch CarrierCom a €65m contract to install GSM-R on the 230 km Humanes - Monfragüe route (RG 8.16 p18) and provide 20 years of maintenance.