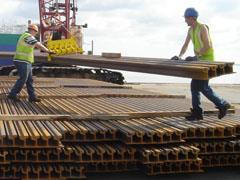 Australia: Abigroup Contractors, Theiss, a Salini-Bielby-Winslow joint venture and John Holland Queensland with Leighton Contractors have been shortlisted to develop 'innovative' proposals for the Moreton Bay Rail Link in Queensland, a planned 12·6 km electrified outer-suburban branch to Kippa-Ring. Completion is planned for late 2016.
China: Hong Kong MTR has awarded Siemens a HK$850m contract to upgrade East Rail signalling.
Croatia: HZ Infra has awarded Italfer a €0·7m design contract for upgrading the Hrvatski Leskovac - Karlovac line. Bombardier has won a €8·6m contract for resignalling of the Okucani - Novska route.
Denmark: Systra and COWI have been appointed technical consultants for the development of a 14 km light rail line in Odense (RG 8.12 p17).
Poland: PKP Energetyka has awarded ABB a 110m złoty contract to supply 138 rectifier units for DC traction substations by 2014.
PKP PLK has awarded NDI a 93·8m złoty contract to upgrade the 40 km single-track route between Chema and Grudzidz, co-funded by Kujawsko-Pomorskie voivodship.
A consortium led by FCC Construcción and including Azvi and Decoma has been awarded a €161·3m contract to upgrade the 32·3 km Czempin - Pozna section of route E59, including remodelling of three stations.
PKP PLK has awarded a consortium of Torpol, PUT Intercor and Pozbud T&R a 368m złoty contract to modernise the 71 km Kalety - Kluczbork line, laying UIC60E1 rails and concrete sleepers, and replacing signalling and 3 kV DC overhead line to raise speeds from 80 to 120 km/h.
South Africa: Gibb has been awarded a four-year contract worth R63m to provide technical advisory services to Prasa for resignalling of the Durban commuter network. This includes design review, development and construction supervision as well as staff training.
Spain: ADIF has awarded a joint venture of Dragados and Tecsa a €78·3m contract for civil works on the 7·6 km left-hand bore of the tunnel at Prado on the high speed line between Olmedo and Ourense. Work is due to be completed within 33 months.
Under its €25·3m programme covering the Barcelona suburban network, ADIF has brought GSM-R into service on the Sants - Vilanova - Sant Vincenç de Calders and Martorell - Sant Vincenç de Calders routes. GSM-R has also been installed on the 90 km Santander - Reinosa route at a cost of €3·1m.
Taiwan: Thsrc has appointed Lloyd's Register as independent safety assessor for the 4 km underground extension of its high speed line to Nankang in Taipei. Assessments will include track, signalling and the traction power supply, as well as civil works at the three new stations.
UK: Network Rail has awarded BAM Nuttall a £220m contract for detailed design and construction on the 56 km Borders Railway reinstatement. Construction is scheduled to get underway in early 2013, for commissioning 'by the summer of 2015'.
Network Rail has awarded Kapsch CarrierCom a contract to maintain its entire GSM-R network.
Trackwork Ltd has awarded Amazonas Florestal a US$2·6m contract to supply 4000 m3 of sleeper and bearer timber from Brazil.
USA: Balfour Beatty Rail Inc and Blythe Development Co have been awarded a $26·3m contract to build a 2·4 km streetcar line in Charlotte, North Virginia, for opening in 2015.
MTA Metro-North has awarded Alstom Signalling Inc a $13·9m contract to supply cases and signal houses for the $67m project to resignal the Port Jervis Line by December 2015. Civil works are being undertaken by Ducci Electrical Contractors under a $22·4m contract.
Jacobs Engineering Group has been awarded a five-year contract worth up to $20m to provide on-call construction management services for the BART capital improvement programme, including inspection services, noise and vibration monitoring and claims management.