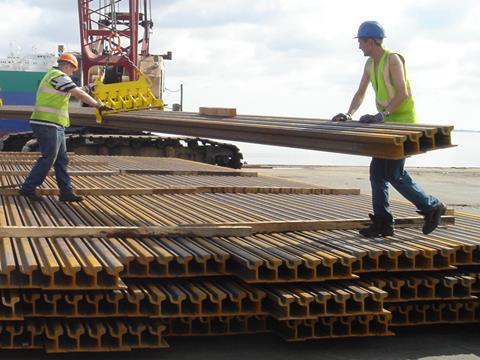 Algeria: A consortium of Condotte d'Acqua and Rizzani de Eccher has awarded Ansaldo STS a €40m contract to supply ETCS Level 1 and 2 and conventional lineside signalling for the 130 km line under construction between Oued Tlélat and Tlemcen, along with a traffic control centre in Oran.
Belgium: Nexans has signed a €36m two-year contract to supply Infrabel with 5300 km of 1 kV power cables.
Brazil: The VLT RMBS consortium has selected Thales to supply signalling and communications for the future SIM light rail network in Santos.
Egypt: ENR has awarded Thales a €109m contract to supply and maintain signalling, telecoms and control systems for the 208 km Cairo – Alexandria route. This should enable speeds to be increased from 140 km/h to 160 km/h and headways to be cut from 10 min to 5 min.
France: Ansaldo STS has been awarded a €13m contract to supply an ETCS Level 2 overlay for the 343 km LGV Sud-Europe Atlantique project. A €47m contract signed in 2011 covered TVM430 cab signalling. La Farga has a €20m contract to provide copper cables for overhead electrification.
India: L&T has won a Rs4·5bn contract to supply 25 kV AC electrification and Scada for Delhi Metro Phase 3, and a contract covering fire detection and suppression systems.
Poland: ZIKiT has awarded Mott MacDonald a 736000 złoty contract to design a 4·6 km tram extension from Krowoodrza Górka to Górka Narodowa in Kraków. Tendering is planned for 2014.
PKP SA has awarded Budrem-Rybak a 4·7 m contract to modernise Rumia station, with improved accessibility, passenger information and the development of a public library and cultural centre in the station building.
Following an appeal, PKP SA has rejected a previously selected bid by Rysy Architekci, Ingenieurburo and Voessing Polska for the modernisation Bydgoszcz station, in favour of a 6·2m złoty deal with Allplan.
PKP SA has awarded Porr a 70m złoty contract to complete building work at Kraków Gówny station left unfinished with the bankruptcy of the previous contractor.
Saudi Arabia: Indra and SRO have selected Kapsch CarrierCom for a 12-year contract to supply and support GSM-R for the Haramain High Speed Rail project.
ArRiyadh Development Authority has selected Gerber Architekten to design Olaya metro station in Riyadh, in partnership with structural engineers Bollinger & Grohmann and specialist companies BW-Engineers, Thurm & Dinges, DS-ABT, Karajan, Design Fire Consultants and Sweett Group. The station will feature elevated public gardens and a roof inspired by sand dunes. Snøhetta is to design Qasr Al Hokm station.
South Africa: Prasa has awarded Thales and partner Maziya a €136m contract to renew signalling and telecoms on 250 km of railway in Western Cape. Electric interlockings will replace obsolete systems, while a Traffic Control Centre is to be built in Cape Town and optic fibres installed.
Spain: ADIF has awarded a joint venture of Dimetronic and Bombardier a €73·4m contract to resignal the 97 km between Castellbisbal, Tarragona and Vila-seca, including the installation of five electronic interlockings. This will have provision for dual-gauging under the Mediterranean Corridor project.
Alstom Transport and Isolux Ingeniería have been awarded a €25·6m contract to electrify the 70 km Medina del Campo – Salamanca route, including signalling and telecoms work.
Sweden: Euromaint's contract to maintain SL's on-track plant has been extended to November 2015.
Taiwan: Taiwan High Speed Rail Corp has awarded Mitsubishi Heavy Industries, Toshiba and Mitsui a ¥20bn turnkey contract to provide track and E&M systems for 5 km of the Nangang extension.
UK: Network Rail has appointed Atkins and Parson Brinckerhoff as lead design organisation and system integrator for the Great Western electrification project.