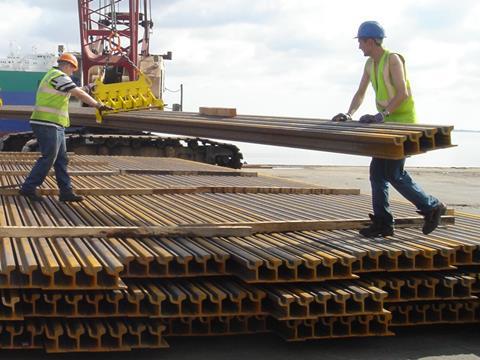 Argentina: Belgrano Cargas y Logística has awarded Construcciones Ivica y Antonio Dumandzic an 81·5m pesos contract for track renewals on 53 km of the Urquiza network between Basavilbaso and Faustino M Parera.
Australia: A joint venture of Aurecon, Jacobs and Mott MacDonald has been appointed as technical, planning and engagement adviser for the A$11bn Melbourne Metro Rail tunnel project.
A consortium of John Holland and KBR has won a A$524m contract to eliminate four level crossings in Melbourne.
Brazil: Vale has awarded Empresa Construtora Brasil a R$380m contract to double a 40 km section of the Carajás Railway.
Czech Republic: EŽ Praha and AŽD Praha have completed the KC1bn second stage of remodelling Beclav station to increase line speeds to 160 km/h.
Egypt: A joint venture led by Vinci Construction Grands Projets and including Bouygues Travaux Publics, Orascom and Arab Contractors has won a €264m civil works contract for the Haroun - El Nozha section of Cairo metro Line 3.
Greece: Ergose has awarded Nokia Networks a contract to upgrade its GSM-R network for long-term maintainability.
Macedonia: Mermec is to supply interlockings, centralised train control and ETCS Level 1 trackside equipment, as well as hotbox detectors and a telecoms network for the rehabilitation of the 32 km Kumanovo - Beljakovtse line.
Malaysia: Evraz is to supply KTMB with 2000 tonnes of 54 E1 rail for the construction of a branch to the SkyPark Terminal at Sultan Abdul Aziz Shah Airport in Kuala Lumpur.
Myanmar: MR has awarded Mitsubishi Corp and Hitachi a ¥2·4bn contract to modernise signalling on the 140 km Yangon - Pyuntasa route by June 2017, funded by a grant from Japan International Co-operation Agency.
New Zealand: Auckland Transport has awarded design contracts for the City Rail Link to joint ventures of Downer NZ and Soletanche Bachy and of McConnell Dowell and Hawkins.
Poland: Infra Silesia and DB Schenker Polska submitted the best bid for modernisation of a 9·5 km section of the single track Tychy - Orzesze Jakowice line at a cost of 43·8m złoty to increase the line speed from 50 km/h to 100 km/h.
PKP SA has awarded Buma Factory 1 an 8·4m złoty contract for a replacement glass façade for Warszawa Centralna station, designed to offer better thermal insulation than the existing one.
Eco-Baza is to modernise a 4 km section of the Katowice - Gliwice freight line for 1·3m złoty and Dolkom is to modernise the Gliwice - Sonica-Makoszowy coal line for 34m złoty, raising the line speeds from 20 km/h to 60 km/h.
Schweerbau submitted the lowest bid for the modernisation of the 22 km Chociw aski - Zduska Wola Karsznice freight line, at 35·9m złoty.
Qatar: WCT Group has won a US$232m contract to build five stops, roads and two underground car parks for the Lusail light rail project.
South Korea: Korea Rail Network Authority has awarded Halla a 141·9bn won contract to build foundations for part of the West Coast line.
Spain: ADIF has awarded Precon a €3·4m contract to supply 1668 mm and 1000 mm gauge concrete monobloc sleepers for routes in Galicia, Asturias, Cantabria and Castilla y León. A second contract covering Catalunya, Valencia and Murcia has been awarded to a joint venture of Drace and Travipós for €1·8m. Andaluza de Traviesas has a €3·4m contract to supply broad gauge concrete sleepers for the Madrid, Extremadura and Castilla-La Mancha regions, while a €1·8m contract covering Aragón, La Rioja, Navarra and the Basque Country has been awarded to GIC Fábricas.
Sweden: Trafikverket has awarded Strukton Rail a contract for track renewals at Tomteboda as part of the Stockholm Citybanan project.
Trafikverket has awarded Peab a SKr170m contract to build two passing loops and modernise stations between Daglösen and Ställdalen by late 2016.
Switzerland: SBB and MGB have awarded ABB contracts worth US$30m to supply three substations.
UK: Network Rail has awarded Siemens Rail Automation a contract to undertake the GRIP 3 development stage for the planned ETCS Level 2 overlay on the Great Western Main Line.
USA: All Aboard Florida has selected Archer Western to renew infrastructure on the Miami - West Palm Beach line.
Five Star Electric has won a $90m contract to provide lighting and electrical equipment for New York's Grand Central Terminal concourse as part of the East Side Access project. Under a separate $33m contract it is to undertake electrical work at Cortlandt Street station.