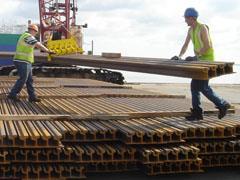 Argentina: The government has awarded five contracts totalling 931m pesos for track renewals on 228 km of the Belgrano network between Mariano Boedo and Pozo del Tigre. The joint ventures selected to undertake the work are: Eleprint/Esuco/Rottio, Zonis/BTU, Herso/Ferromel/Emepa, Roggio/CPC and Helport/Chediak/Comsa Argentina/JCR.
Australia: Prime Minister Julia Gillard has approved an A$25·5m grant to accelerate preparatory works for the proposed 35 km Maldon – Dombarton link in New South Wales, which would connect Port Kembla to ARTC's main north-south corridor.
Austria: ÖBB Infrastruktur has awarded Siemens a €7m contract to install ETCS Level 2 including its Trainguard 200 RBC on the 87 km Wien – Breclav Nordbahn by December 2013. The European Commission is providing €6·9m towards the €18·5m project. There is also a €4·5m option to equip the future Wien Hbf.
Belgium: Infrabel has awarded a €33m contract to a consortium including Strukton Rail for resignalling of Line 94 between Tournai and Ath which will be controlled from a single signalling centre at Tournai.
Brazil: Bombardier has won a €70m turnkey contract to supply Cityflo 650 CBTC for the 8·4 km existing section of São Paulo metro Line 5 and the 11·5 km extension scheduled to open in 2015 (RG 9.11 p14).
Canada: Colas subsidiary Standard General – Calgary has been awarded a €51m contract to build an intermodal terminal in Calgary for CN.
Europe: Eurotunnel has awarded RFF an €11m contract to support the installation of GSM-R communications, sharing equipment and maintenance services. The equipment is to be installed by Alcatel-Lucent under a contract announced in 2009 which will be completed in 2014.
France: RATP has awarded Nexans two four-year contracts totalling €15m for the supply of 6700 km of safety, control and signalling cables for infrastructure projects and rolling stock modernisation.
Germany: Vossloh Rail Services has started test running around Dresden with its HSG-2 high speed rail grinding train (RG 8.11 p32).
Norway: Jernbaneverket has awarded Skanska a NKr1·36bn contract to build 2370 m and 1930 m tunnels for the Vestfoldbanen upgrading.
Atkins and Aas Jaokobsen have won a contract to design the resignalling of Oslo Sentral station to make provision for the new Follo Line, which will provide additional capacity on the southeastern approaches.
Poland: Thales has signed contracts totalling €87m to supply PKP PLK with electronic interlockings and centralised traffic control to increase capacity on corridor E30 between Germany and Ukraine by mid-2013.
PKP PLK and Bombardier have signed a four-year €8m agreement covering the supply of train detection and level crossing equipment, axle-counters, point machines, signals, relays and spares.
Russia: Pesa signed a deal to supply RZD with a self-propelled four-axle infrastructure inspection vehicle at the Trako trade fair on October 12.
Spain: The Ministry of Development has awarded a Comsa/Anchelergues joint venture a €51·5m contract for civil works on the 3·7 km La Canda – Vilavella section of the high speed line between Lubián and Ourense.
Corsan-Corviam, Arian and Exbasa have been awarded a €45·8m contract to build the 2·6 km Elorrio – Atxondo section of the 90·8 km Vitoria – Bilbao high speed line.
A €389m contract for civil works on the 31 km Quejigares – Loja section of the Antequera – Granada high speed line has been awarded to Azvi. This includes a 580 m viaduct.
FEVE has awarded Comsa a €44m contract for track renewals on the 84 km Navia – Villapedre section of the Ferrol – Oviedo route. Under a contract worth €29m, Alstom is to resignal the Cudillero – Pravia section.
Turkey: Kayseri council has awarded the Ilci/Coopsette joint venture a €33m contract for construction of the 16 km Kayseray light rail Line 2.
UK: Network Rail has awarded Delta Rail a contract for the Crossrail West Inner recontrol project, covering migration of the Slough IECC control area to the new Thames Valley Signalling Centre at Didcot.
USA: Wabtec has signed a $63m contract to provide Positive Train Control for the three commuter rail lines totalling 58 km which the Denver Transit Partners consortium led by Fluor Enterprises is to build and operate under the Eagle P3 project.