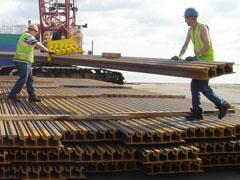 Algeria: General contractor Astaldi has awarded a consortium of Bombardier and Site SpA a €19m order to supply Interflo 250 ETCS Level 1 equipment for the 120 km line under construction between Saida and Moulay Slissen.
Telvent is to supply Isolux-Corsan with its Smartmobility light rail system to manage road traffic and prioritise tram movements on Oran's 18 km light rail route with 32 stops.
Austria: ÖBB Infrastruktur has ordered two further Alister electric interlockings from Funkwerk IT for use in marshalling yards.
Australia: ARTC has awarded Transfield Services a A$160m contract to upgrade the Sydney – Melbourne corridor over two years, and has extended its long-term maintenance contract by 18 months.
OneSteel is to supply ARTC with 2200 km of rail for the Albury – Melbourne – Geelong, Whyalla – Broken Hill and Parkes – Cootamundra re-railing projects.
Bangladesh: Harsco is to deliver a Mark VI ballast tamper in 2011 to support the upgrading of BR's 1676 mm gauge lines.
Bulgaria: Sofia metro has awarded Czech consultancy Metroprojekt Praha a 30-month contract worth 3·3m leva to prepare a feasibility study and preliminary designs for the future Line 3 from Knayevo to Vasil Levski.
China: The Ministry of Railways has selected Vossloh Fastening Systems (China) to supply rail fastenings worth €140m for the 1800 km passenger line under construction to parallel the existing railway between Lanzhou and Urumqi in western China.
Denmark: Banedanmark has awarded Grontmij four contracts for the €80m modernisation of Nørreport station in København in 2011-14. In co-operation with Public Architects and Cobe Architects the above-ground station buildings will be replaced and streets remodelled to form a public square.
India: Mott MacDonald is to provide engineering and architectural design services for 10 stations on the elevated sections of the Chennai metro due to open in 2015. Alcan Extrusions is to supply 100 km of aluminium conductor rail with co-extruded stainless steel abrasion surface for the Bangalore metro project.
Liberia: Next year Harsco is to supply a reconditioned rail grinder for the 78 km Bong Mining Railway which reopened in 2009 following repairs to civil war damage.
Serbia: Italferr and MerMec company Tecnogamma have won a €3m three-year contract to survey assets on Corridor X and the line to Montenegro to create an intelligent asset management database. They will also advise ZS on the purchase of diagnostics vehicles and development of IT systems.
UAE: Fluor has signed a contract to provide Abu Dhabi's Department of Transport with project management services for the development of an integrated public transport network by 2030.
UK: Network Rail has appointed May Gurney as principal contractor for replacement of the decking of the 500 m, 51-span Arnside viaduct during a 16-week possession next year.
Rail Vehicle Engineering Ltd has been awarded a £6m contract to maintain Network Rail's fleet of 45 specialist infrastructure monitoring vehicles for two years, with an option for a further three years.
NRL Rail has won three Network Rail contracts covering switch and crossing grinding, vegetation management and ultrasonic and signalling services.
USA: Three railways have ordered Harsco's drone tampers, which use wireless ethernet to follow a conventional lead tamper as an unmanned, fully-automated chase vehicle.
Seattle's Sound Transit has awarded MidMountain Contractors a $40·8m contract to build a commuter rail connection from East D Street to South M Street in Tacoma as part of its plan to extend Sounder services to Lakewood in 2012.
Axion has received an initial $250000 order to supply a Class I railway with Recycled Structural Composite sleepers developed in conjunction with Rutgers University.
An international team led by Battelle has been awarded a 78-month $6·7m contract by NYCT to act as independent safety assessor for the Flushing Line CBTC signalling upgrade project (RG 6.10 p19). vA joint venture of Hill International, Systra Engineering and Gannett Fleming has received a framework contract to provide PATH with planning and project management services during its $4·1bn capital programme.