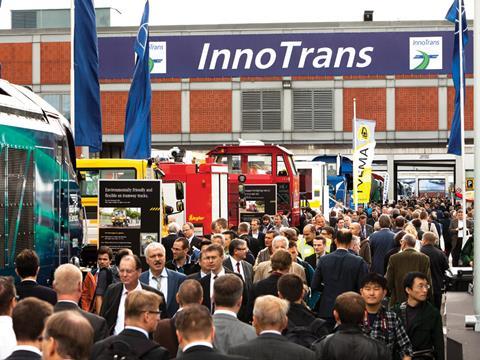 INNOTRANS: The 'feel good' factor is becoming increasingly important wherever there is competition for new passengers, and this will be reflected in the expansion of Travel Catering & Comfort Services within the rolling stock Interiors section of InnoTrans 2016.
InnoTrans organiser Messe Berlin says exhibitor numbers in the Travel Catering & Comfort Services section more than tripled from 2012 to 2014, with more than 70% of the companies being from outside Germany. More than 90% of exhibitors are planning to return for InnoTrans 2016.
International exhibitors from the catering and services sector will be showcasing their products directly to potential customers including rolling stock manufacturers and train operators, with specially organised themed tours of exhibitors' stands planned.
Stefanie Titze of Newrest says InnoTrans is an event the French catering and on-board services provider 'cannot afford to miss'. It provides the opportunity to 'meet our customers from around Europe in a single place', and also to see 'what our partners and customers are offering and what we need to aim for over the next two years'.
Other exhibitors will include Spanish firm Kelox which specialises in galley equipment, Italian dining car, bar and galley equipment manufacturer Multi Rail, and Swiss coffee machine maker Rex-Royal.
Railway Gazette is the official international media partner for InnoTrans 2016, which will be held at the Messe Berlin exhibition centre from September 20 to 23 2016.