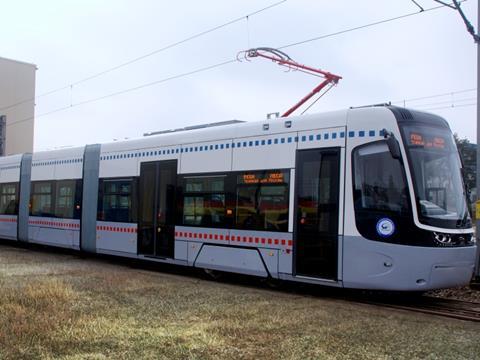 UKRAINE: Kyiv is to take delivery of a Pesa Foxtrot tram at the start of October for three months of testing.
This follows the signing in June of a memorandum by Pesa and Kyiv Mayor Vitali Klitschko for the supply of trams and the possible opening of a factory in the Ukrainian capital. Kyiv is planning to procure 50 trams to replace the oldest cars in its fleet.
In June 2013 Pesa in co-operation with Uraltransmash received an order for 120 low-floor trams from Moscow, but deliveries have been suspended after the fall in value of the Russian rouble. Only 60 trams have been delivered, and reports indicate that around 20 more completed cars are ready at Pesa's factory in Bydgoszcz.
The 1 524 mm gauge, 26 m long Foxtrot was unveiled in February 2014.