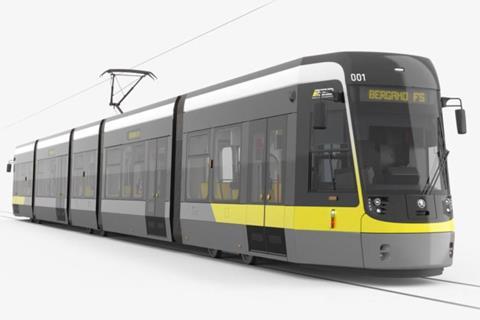 ITALY: Bergamo tram operator TEB has selected a consortium of four companies as preferred bidder to design and build Line T2 to Villa d'Almè.
The consortium comprises Impresa Milesi Geom Sergio, Generale Costruzioni Ferroviarie, Impresa Edile Stradale Artifoni and Š koda Transportation.
'We are in the final stages of a complex process, which has had to deal with unforeseen circumstances such as the significant increase in the cost of raw materials and the arrival of new regulations', said TEB President Filippo Simonetti when the preferred bidder was announced on May 12.
A €176m contract is expected to be signed in the coming weeks. The design phase is expected take around five months, with main construction works to begin by the end of the year.
Opening is planned for September 2026, which Managing Director Gianni Scarfone said would provide opportunity to rethink local transport services in the Bergamo area.
Planning and design
Feasibility studies for T2 were undertaken in 2018 by the municipality and the University of Bergamo, and government funding was agreed in 2019.
TEB said the project has a benefit/cost ratio of 1·86 and an internal rate of return of 4·2%.
Funding €m
Ministry of Infrastructure & Transport
151·5
Lombardia region
40
Municipality and province of Bergamo
9·5
Other municipalities on the route
4
Planning has been undertaken by the RTI Tramsì consortium of Italferr, ETS, SDA Progetti and Ing Arini. Belloni provided architectural and landscape design consultancy services.
The line will be 11·5 km long, with 23 level crossings and 95% of the route being on reserved track.
The first section from Bergamo railway station to Borgo Palazzo and San Fermo will be shared with the existing Line T1. T2 will then use the alignment of the former Valle Brembana railway which closed in 1966.
There will be 17 stops, with provision for two more subject to serve future urban redevelopment projects. The project includes a number of car parks, as well as pedestrian and cycling facilities.
The line will be double track throughout, except through an existing tunnel in Ponteranica and across a historic former railway bridge in Villa d' Almè.
The maximum speed will be 70 km/h, reducing to 50 km/h between Ponteranica and Bergamo and dropping to 15 km/h near road crossings. The end to end journey time will be 30 min.
The 10 Š koda trams will be 32 m long with a capacity of around 239 passengers. The new trams as well as the 14 existing trams on T1 will be able to operate across both lines. A depot will be built at Petosino, although T2 will be managed from the existing T1 control centre.