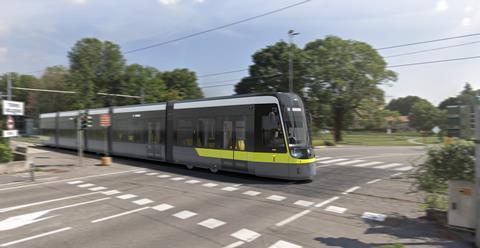 ITALY: Škoda Group has finalised a contract to supply 10 customised trams to Bergamo over the next three years and provide three years of full-service maintenance.
The tram order which was formally announced on July 12 forms part of a larger turnkey contract for a consortium of Impresa Milesi Geom Sergio, Generale Costruzioni Ferroviarie, Impresa Edile Stradale Artifoni and Škoda Transportation to build the 11·5 km Line T2 from the city to Villa d'Almè. Opening is planned for September 2026
Jan Harder, Škoda Group President Region West, said the trams from the ForCity Classic family would be based on a proven platform but with 'even better parameters' than previous models.
The 70 km/h bidirectional vehicles will have five sections with one unpowered and two powered bogies. They will be 100% low floor and the doors close to the areas for persons with reduced mobility will have driver-operated devices to span the gap to the platform edge.
The cabs will offer 'unparalleled comfort' and a wide view, and they will be the first Škoda Group trams to have an 'advanced' anti-collision system.
Other features will include air-conditioning and remote diagnostics for real-time monitoring and proactive maintenance.
Harder said the order for tailored trams was won thanks to 'unwavering dedication to meeting the evolving needs of our customers', helped by the understanding of the Italian market which the Czech company had gained by opening an office in Firenze last October.