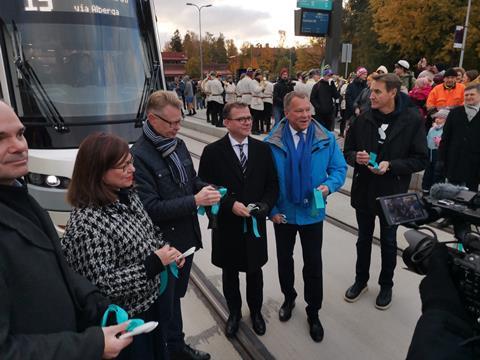 FINLAND: Helsinki Regional Transport opened its 25 km orbital light rail line serving the Helsinki-Espoo conurbation for revenue service on October 21, almost a year ahead of schedule.
Running from Itäkeskus in eastern Helsinki to Keilaniemi in neighbouring Espoo to the west, the line is branded Jokeri as an abbreviation of JOukkolikkenteen KEhämäinen Raide Investointi (mass transport ring rail investment).
It runs in an arc around the capital, which is located on a pear-shaped peninsular connected by three radial highways. Around 16 km of the route is located in Helsinki and 9 km in Espoo.
Being promoted as an 'express tram', the Jokeri LRT is intended to replace bus Route 550, which since being launched in August 2003 has become HSL's busiest with 40 000 passengers/day on weekdays. The end-to-end journey time of 65 min, an average speed of 25 km/h, is similar to the bus timetable, but the trams will not be subject to delay by traffic jams. The bus service is expected to cease running at the end of the year.
Planning and construction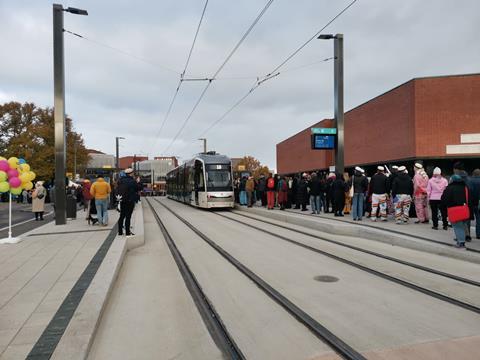 The light rail line was first mooted around 1990, but it was not until June 2008 that the city of Helsinki commissioned a detailed plan, which was presented in May 2009.
The scheme was finally approved in 2016, and construction began in June 2019.
Tracklaying was completed in August 2022, and test running finished in September. The route was originally expected to open in summer 2024, but the target date was brought forward to January and then to October 2023.
The line has been developed by the Jokeri Rail Alliance, set up by the two cities to bring the promoters, designers and contractors into a single umbrella organisation. The double-track line has been built to 1 000 mm gauge for compatibility with HKL's legacy tram network. It serves 34 stops at an average spacing of approximately 800 m. Three of these provide interchange to the metro stations at Itäkeskus, Aalto University and Keilaniemi and three to suburban railway stations at Oulunkylä, Huopalahti and Leppävaara. Construction of the line required four new bridges over the radial highways and one of the city's ring roads, plus a 300 m tunnel at Patterinmäki.
Civil works were budgeted at €382m with another €108m for the rolling stock plus €70m for the dedicated depot at Roihupelto bringing the total to €562m.
The cost of the project has been split three ways. The national government contributed €84m, and the remainder has been divided between the municipal administrations in Helsinki (65%) and Espoo (35%). According to HSL, the line has been completed around €13m below budget.
Vehicles and services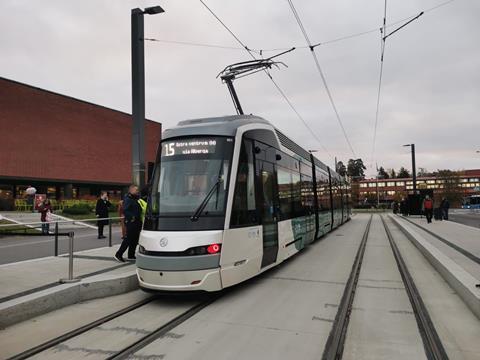 The line will be operated by a fleet of 29 ForCity Smart Artic X54 supplied by Škoda Transtech. These are a longer version of the Smart Artic cars previously supplied to HKL and similar to those in operation in Tampere.
The five-section low-floor cars are 34 m long, with provision to incorporate an extra 10 m section if demand increases in the future. Each car can carry up to 214 passengers, including 78 seats and four spaces for wheelchairs or prams, and can run at speeds up to 70 km/h. The trams are finished in a white and petrol blue livery which like the interior was developed by Finland's Idis Design.
Tram services operate from 04.30 to 01.15 each weekday, starting an hour later at weekends. As only 15 trams have so far been delivered the initial headway is 10 to 12 min, but the frequency will increase to a tram every 6 min when all 29 are available, allowing the bus route to be withdrawn. Zonal fares are charged, with a flat fare of €2·80 for travel in either Helsinki or Espoo and €3·10 for both zones, all valid for 80 min.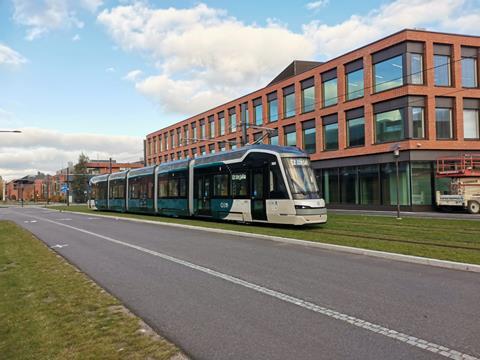 Environmental improvements include an estimated reduction of around 85% in CO2 emissions and 95% in NOx emissions compared to the 550 bus. The trams are expected to carry more than twice as many passengers, reaching an estimated 91 000 passengers/day by 2030. Total ridership is projected at 3·5 million trips for the remainder of 2023 and up to 15 million in 2024. The line is also expected to encourage commercial and residential development in both Helsinki and Espoo.
Plans are being developed for extension of the line to serve Viikki, Pasila, Otaniemi and Tapiola. This would follow the completion of HKL's 5·5 km Crown Bridges light rail line linking Helsinki with its fast-growing eastern suburb of Laajasalo, which is scheduled to open in 2027.