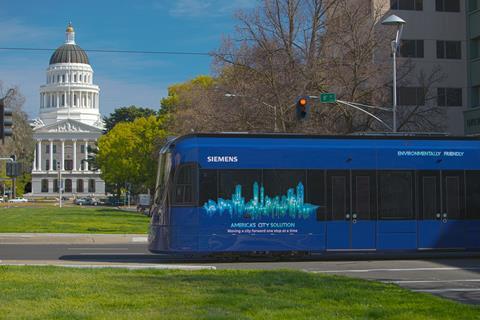 USA: Sacramento Regional Transit District has decided to replace its fleet of ageing high-floor light rail vehicles with low-floor cars to be supplied by local manufacturer Siemens Mobility Inc.
SacRT's first order for new rolling stock in 20 years covers 20 S700 vehicles together with spare parts and tools. Announced on April 22, the contract is worth approximately $100m. It has been placed as part of a $150m modernisation programme funded by the Transit & Intercity Rail Capital Program and Proposition IA, which also includes adapting the stops to accommodate low-floor cars and adding to new passing loops on the route to Folsom to facilitate a 15 min interval service.
The first vehicles are expected to be delivered in 2022. SacRT said it 'continues to pursue all funding sources' with the aim of exercising options in the contract for up to 76 LRVs and replacing its entire 97-car fleet. 'The purchase of these new vehicles is long overdue and will begin the transition to a modern, low-floor fleet', said General Manager & CEO Henry Li.
The new LRVs will be 'a huge leap forward to improve accessibility and comfort for our riders from the disabled community, seniors, bicyclists and families with strollers', added Board Chair and Sacramento City Councilmember Steve Hansen. 'As a growing region, the new modern low-floor cars will also help reduce traffic congestion and inspire new riders to get onboard.'
Fleet modernisation is expected to reduce the operator's maintenance and repair costs, which have been rising as the existing cars approach the end of their 30-year life.
The order is 'a win-win for Sacramento' said Congresswoman Doris Matsui. 'Not only will SacRT receive much needed replacement light rail vehicles to modernise and improve the reliability of its fleet to serve the entire Sacramento region, but this contract will also support hundreds of high-skilled manufacturing jobs at Siemens Mobility here in Sacramento. Given the state of this current crisis, this deal comes at a critical time for the recovery of our economy.'