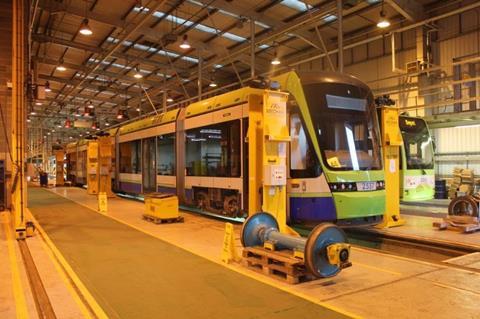 UK: The London Trams depot at Therapia Lane west of Croydon is to be made 'cleaner, greener and cheaper to run', as the first of a number of low carbon depots planned for the Transport for London network.
The heating systems are to be upgraded with a mixture of efficient heat pumps and infrared panel heaters replacing ageing gas boilers. The additional electricity consumption from the new heating system is planned to be offset by using 1 800 m2 of south-facing roof space for solar panels, along with other energy efficiency measures such as improved insulation and LED lighting.
Planning is underway with work to be complete by 2025.
'The planned improvements at the Therapia Lane depot are key to demonstrate that removal of fossils fuels from large, hard-to-decarbonise depots is feasible', said Mark Davis, TfL's General Manager for London Trams on March 30. 'Once this work is complete, the depot will not only be cleaner and greener it will be better shielded from more costly fossil fuels to help provide significant cost savings.'
The project has been awarded a £592 000 grant from the Department for Energy Security & Net Zero's Public Sector Decarbonisation Scheme, which is managed by government-owned Salix Finance. Further funding is being provided by Transport for London.