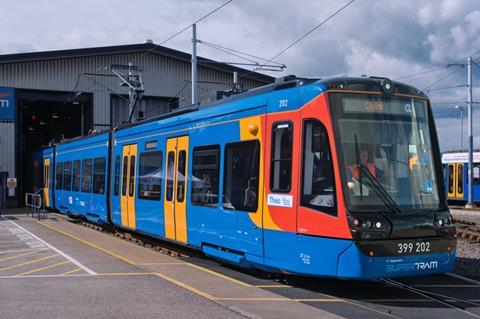 UK: A 'learning hub' has been launched to share information and experiences gained from the design, construction and operation of the UK's first modern tram-train service.
After a prolonged development process, the pilot tram-train service linking Sheffield and Rotherham using the Supertram network and a Network Rail freight line was launched in October 2018.
A key objective of the tram-train pilot project was to develop a learning hub to provide a comprehensive body of information which would be available free of charge to benefit future schemes. This has now been set up by Network Rail's Light Rail Knowledge team, which has been created to provide a centre of excellence for light rail matters.
'I thank my colleagues in South Yorkshire Passenger Transport Executive, Supertram and Network Rail for helping to compile the information and data that makes this a very comprehensive learning resource', said Simon Coulthard, the infrastructure manager's Head of Light Rail Knowledge & Development on January 11. 'I hope colleagues in the industry will find the hub valuable as they assess the potential for tram-train elsewhere.'
Light Rail Knowledge Manager Alex Dodds said 'it's taken a huge effort by all the partners to bring our collective learning into one accessible forum. I'm really excited to be sharing our knowledge and helping the development of future light rail schemes.'
Applications for access to the hub should be made though Network Rail.