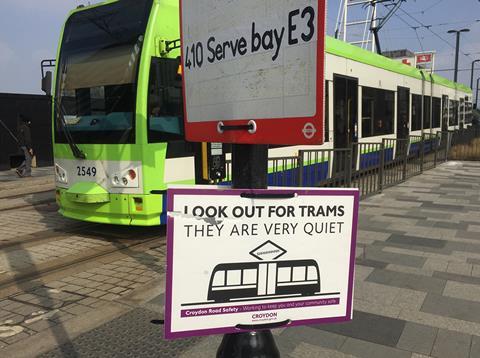 UK: The Light Rail Safety Standards Board has been established to facilitate more effective co-operation across the tram sector.
Allocated £1·5m of government funding, it will build on work undertaken by the safety steering group that was established by the UK Tram industry group following a derailment at Sandilands in Croydon which killed seven passengers.
The creation of a safety board was one of 15 recommendations made by the Rail Accident Investigation Branch when it published its report into the November 2016 derailment.
'Since the publication of a detailed report into the accident a great deal of work has already been undertaken to address the issues it raised', said LRSSB Chief Executive Peter Cushing on May 23. 'LRSSB is now well placed to take these efforts to the next level. Light rail is already one of the safest forms of public transport and we intend to help the industry improve its standards even further.'
The non-executive board comprises West Midlands Metro Director Phil Hewitt, who is LRSSB Interim Chairman; Bob Morris, Chief Operating Officer for Transport for Greater Manchester; Carl Williams, Director of Operations at Midland Metro Ltd; Jonathan Fox, Director, Rail & Sponsored Services at Transport for London – who led TfL's response to the Croydon derailment; and David Nicholls, HSQE Director at KeolisAmey Metrolink.
'The broad experience and expertise offered by the new board members will help ensure a joined-up approach to light rail safety that will deliver significant benefits for operators and the travelling public alike', said Hewitt. 'Our clear aim is to draw on the experiences of light rail operators in the UK and, indeed, across the world to ensure we can continue to raise the bar in terms of best practice.'