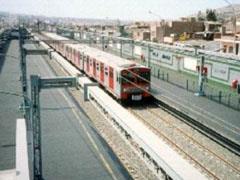 PERU: This month is due to see the award of a 40-year concession to complete and operate Line 1 of the Lima metro. The government's private investment agency ProInversión announced in September that final bids were to be submitted by September 17, with the technical offers to be opened on October 6 and the financial proposals on October 10.
Several consortia have expressed interest in the project, including Acciona of Spain, which is working with local construction group Graña y Montero. Metro de Madrid is heading another consortium with OHL, Cobra and Abengo-Telent, whilst three Brazilian firms and Astaldi of Italy are also reported to have teamed up with local partners.
The 9·2 km first phase of Line 1 linking Villa El Salvador with Atocongo was completed in the 1980s at a cost of US$300m, but has only operated sporadically. The winning bidder is to build an 11·7 km extension from Atocongo to Hospital Dos de Mayo with nine stations, serving the districts of San Borja, La Victoria and Cercado (RG 6.07 p336). It will also supply additional rolling stock and operate the whole line. The extension is provisionally costed at US$280m, and the government has agreed to contribute up to US$222m.