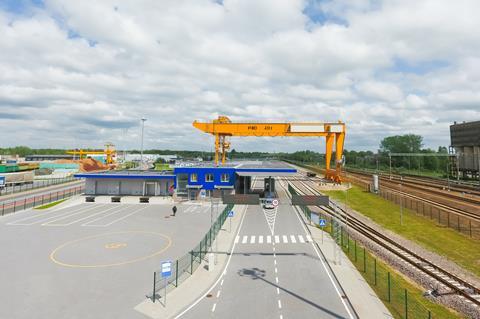 EUROPE: Lithuania's national freight operator LTG Cargo has sent a pilot container train to Ukraine via Poland, avoiding Belarus because of that country's support for the Russian invasion of Ukraine. LTG Cargo said the return working would be the first time in its history that freight from Ukraine would reach Lithuania by rail without passing through Belarus.
The initiative aims to help restore logistics chains which are crucial for the region but have been disrupted by the Russian attack on Ukraine.
The pilot train left the Kaunas Intermodal Terminal on April 27 and will use 1 435 mm gauge to the Ukrainian border.
The service forms part of the LTG Group's wider plan to adapt to the changed business environment resulting from the war and sanctions. The plan has three main focuses: improving operational efficiency; reducing costs; and diversification and expansion into new markets, especially in western Europe.
LTG Cargo expects its freight volumes will be down by a half this year at about 26·5 million tonnes, losing it €150m in revenue.
A partnership is being developed with Latvia and Estonia to increase rail freight between western Europe and the Baltic states, and discussions are underway with Kazakhstan on freight transport to the port of Klaipėda.
'We continue to look for new areas of diversification and ways to help our customers move freight', said LTG Cargo CEO Egle Šimė on April 29. 'The intermodal freight terminal in Kaunas, which was connected to the European rail track less than a year ago, and the strategic decision to set up a company in Poland as early as 2020, have given us the opportunity to look for unconventional freight transport models and efficient ways to adapt to the changed situation.'
Lithuania's Minister of Transport & Communications Marius Skuodis has met Ukraine's Agriculture Minister Mykola Solsky to discuss the transport of Ukraine's grain harvest to world markets. A pilot shipment by rail from the Medyka terminal on the Polish-Ukrainian border, through Poland to the port of Klaipėda is planned. The route is logistically complex due to the breaks of gauge, and to help meet demand, the Lithuanian-Polish border crossing is to work around the clock.