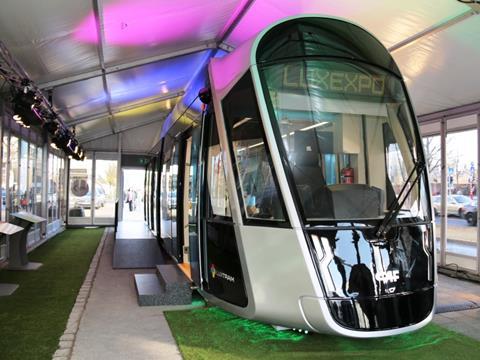 LUXEMBOURG: A full-sized mock-up of the tram that CAF is to supply to Luxembourg City went on display on December 7. It will remain in the Kirchberg district for public viewing until January 31.
At 15 m, the model is one-third of the length of the 21 Urbos trams that CAF will supply under an €83m contract signed earlier this year. The trams will be 2 650 mm wide and 3·6 m high, with capacity for 450 passengers. Styling has been undertaken by Avant Première.
Production of rolling stock is due to begin next year, along with construction of the line. The first vehicles are scheduled for delivery in early 2017, ahead of commissioning of the initial section of the route in the second half of that year.
No catenary is envisaged on the 3·6 km between Pont Rouge and the main line station, so the trams will be equipped to operate using CAF's ACR Freedrive ground-level charging system on this section.
Total cost of the project is expected to be €345·78m. The first section will link Pont Rouge and Luxexpo. Extensions at both ends, from Luxexpo to the airport and Pont Rouge to Cloche d'Or, are envisaged to open in 2020-21, taking the line to 16·2 km.