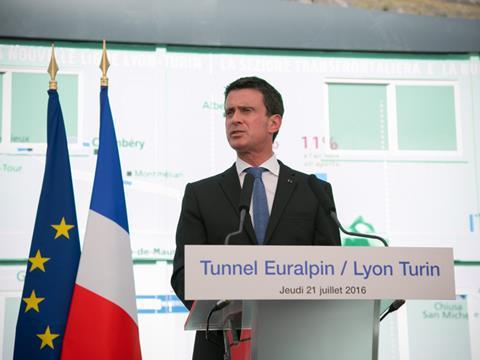 EUROPE: The 2 400 tonne TBM 'Federica' that is now at work on a 9 km test bore for the Lyon – Torino project was launched by Prime Minister of France Manuel Valls during a ceremony held at Saint-Martin-La Porte on July 21.
A total of 443 people are at work on the trial bore, which by more closely examining local geology in this 'particularly delicate' section of the route beneath the Alps will form an 'important test' for the main 57⋅5 km Mont Cenis base tunnel, according to project organisation Tunnel Euralpin Lyon Turin.
Work on the French test bore is costing a total of €391m, with 50% provided by the European Union, 25% by France and 25% by Italy. For the first time on the project, two TBMs are now proceeding towards each other, with a second named 'Gea' at work on the 5⋅5 km Chiomonte test bore in Italy.
Construction of the main base tunnel is due to start in 2018, with the cross-border section of the new line between Lyon and Torino costing a total of €8⋅6bn. For the €1⋅9bn of work to be undertaken by 2019, France and Italy are receiving an EU contribution of €813⋅8m or 41⋅08%.
'The launch of TBM "Federica" in France and the work underway at Chiomonte according to the programme agreed with the European Union show that Lyon –Torino is not only a project, but engineering under construction', said TELT Managing Director Mario Virano.