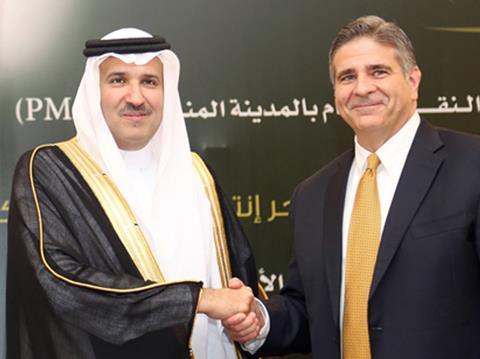 SAUDI ARABIA: AlMadinah AlMunawwarah Development Authority has appointed Louis Berger as programme management office consultant for the implementation of the AlMadinah AlMunawwarah Public Transportation Programme, which the professional services consultancy says is 'one of the most ambitious transportation infrastructure initiatives in the Middle East.'
The aim of the MPTP is to develop a comprehensive metro and bus network and upgrade roads to address the problems of traffic congestion and emissions in Madinah. The city has a resident population of around 1·1 million, and is predicted to be visited by 12·2 million pilgrims in 2040, 3·6 million during the annual Hajj.
The five-year PMOC contract is worth 375m riyals. Louis Berger is to support strategic planning, and 'control, guide, oversee, co-ordinate and integrate service delivery of the various project and construction management consultants, any other consultants, advisors and third parties across MPTP projects.' Louis Berger will be fully integrated with the MMDA management team, and is to establish a talent development programme which will equip Saudi professionals with the management skills and technical capabilities to eventually take over the positions they will initially shadow.
'Once completed, MPTP will boast world class transportation facilities, enabling the city to ensure the safety of its citizens, visitors and pilgrims, all while enabling greater knowledge transfer and training for Saudi professionals,' said Thomas Topolski, Louis Berger's Executive Vice-President & Managing Director Middle East & North Africa.