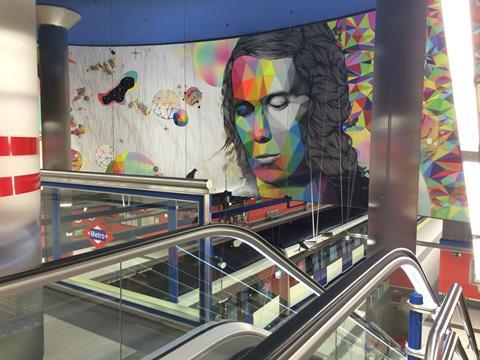 SPAIN: A 1·53 km extension of Madrid Metro Line 9 from Mirasierra to Paco de Lucía opened to traffic on March 25, taking the total number of stations on the network to 301.
The station has been named after an artist who lived in the Mirasierra district until his death in 2014, depicted in a mural covering 300 m² which Madrid Metro says is the first example of official 'street' art in a station in Spain.
Contracts for the extension of Line 9 from Herrara Oria to Mirasierra and Paco de Lucía in the northern suburbs of the capital were awarded in September 2009, with the first 1·5 km to Mirasierra entering service in March 2011. The extension has cost a total of €191m to build, funded by the Madrid regional government.
According to Madrid Metro, Paco de Lucía will tap a catchment area with 50 000 potential users, as well as more than 30 000 passengers on RENFE suburban services who are expected to use a new interchange being funded by the Ministry of Development. The suburban station served by routes C3, C7 and C8 is expected to open in September.