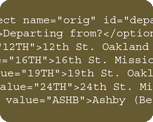 USA: San Francisco metro operator BART is encouraging local retailers, offices and coffee shops to use spare computer screens to provide their customers and staff with real-time train running information.
A simple file available to download from www.bart.gov enables almost any internet-linked computer to display departure information for a chosen station.
BART aims to make travel information more widely available to help passengers plan their journeys better, and business can also benefit. 'It's good for us because it's another way to draw BART riders into our cafe and give them a sense of timing so they don't have to rush to their train', said Lev Kilun, owner of Café Lyon near Rockridge station.