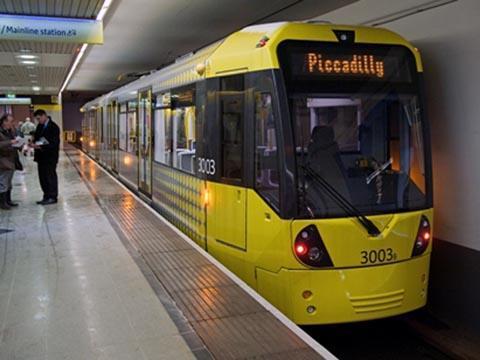 UK: On September 22 Bombardier Transportation announced that, together with consortium partner Vossloh Kiepe, it had signed an option worth £34m with Transport for Greater Manchester to supply an additional 16 M5000 light rail vehicles for the Metrolink network. Bombardier says that its share of the option is worth £25m.
'I am delighted we have been able to place this order, which will bring our fleet to 120 vehicles — a symbol of just how far our network has come since it opened in 1992 with just 26 trams', said Councillor Andrew Fender, Chair of the TfGM Committee. 'The expansion of the network has been a giant leap for Metrolink, and that leap has been matched by the far greater performance and quality of the new M5000 trams compared to the original, now-retired T68 vehicles'.
'We have an excellent relationship with Transport for Greater Manchester and are delighted to be able to further cement our partnership with this additional order', said Germar Wacker, President, Light Rail Vehicles, at Bombardier Transportation.