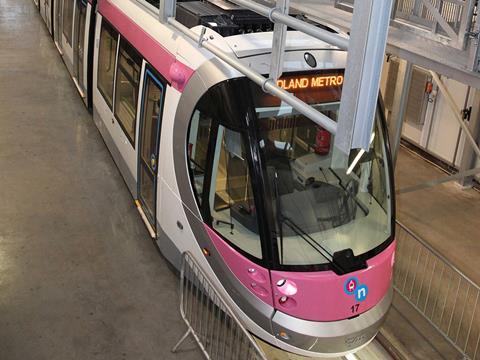 UK: A number of transport schemes are included in the government's Local Growth Fund allocations announced on July 7. Local Enterprise Partnerships formed by English local authorities and businesses were able to bid for money from the fund to spend on match-funded projects which are intended to support their local economy.
In Birmingham £100m has been allocated for extensions of the Midland Metro tramway, subject to the completion of successful business cases. The extensions would run from New Street station to Centenary Square, Broad Street and Five Ways, and from Stephenson Street to Eastside to serve the planned Curzon Street station on High Speed 2. Funding for a continuation to Digbeth and Adderley Street park and ride will also be considered.
A further £4·5m has been allocated to extending Midland Metro to Wolverhampton station, which will be modernised. There is also funding for the Mid-Cannock container depot and freight interchange, and to enable Birmingham's South & City College to help provide people with specialist skills needed for High Speed 2.
Greater Manchester has secured £18m for its £44m Metrolink Service Improvement Package, which will include 12 additional trams 'to provide increased resilience across the network', as well as a new wheel lathe, two substations and a turnback at Sale.
There is £2·1m to begin planning for an extension of the Blackpool tramway to Blackpool North station in 2016-21.
A number of stations are to be modernised, and £7·5m will be allocated to develop plans for 25 kV 50 Hz electrification from Hull to the East Coast Main Line.