To ensure that 95% of its residents are no more than 25 min and a single change away from the centre, the French city of Marseille is building a light rail network and extending its metro, as Laurent Charlier reports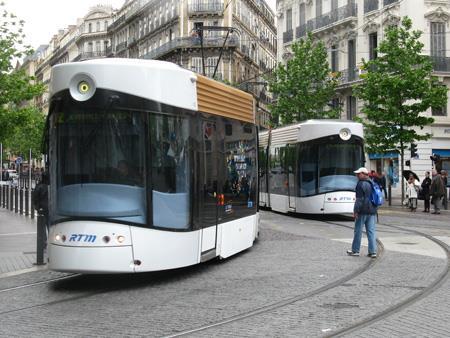 THIS AUTUMN is due to see Phase 2 of Marseille's light rail programme open to the public, with 1·5 km entering service between Blancarde and Eugène Pierre. At the same time, the initial 8·8 km opened on July 5 2007 (RG 8.07 p467) is to be divided between two routes, T1 running from Eugène Pierre to Les Caillols and T2 running from Euroméditerranée-Gantès to Blancarde Foch.
The current programme involves 11·9 km of routes, costing a total of €423m of which 80% is being provided by the city authority Marseille Provence Métropole. The remainder is being provided by government at national, regional and département level, as well as the public agency directing the Euroméditerranée urban regeneration programme. The latter covers 311 ha, including the docks at La Joliette and the Saint-Charles district around the city's rail terminus.
Marseille's last trams had disappeared in 1960, with the exception of Line 68 which continued to run between Noailles and Saint-Pierre until January 8 2004 when it was closed to become part of the new network. The 900 m running in tunnel between Eugène Pierre and Noailles is due to return to service as part of route T1 in June 2008, once work to construct two new ventilation shafts, waterproof the lining and install new track and overhead electrification equipment is completed. The single track through the narrow bore will be equipped with overspeed protection and trainstops.
This will be followed in July or August 2008 by a 700 m extension of line T2 from Euroméditerranée-Gantès to Euroméditerranée-Arenc. The network will then serve a total of 27 stops at an average spacing of 450 m.
Marine style
At a cost of €2·5m each, Bombardier Transportation has supplied a fleet of 26 Flexity Outlook LRVs, of which 18 are needed to operate the current service. The 100% low-floor bi-directional vehicles comprise five sections riding on two motor bogies and one trailer bogie, and each accommodates a total of 200 passengers. Each powered bogie is fitted with two 115 kW three-phase asynchronous motors.
The contract includes options for kits to extend each LRV by two additional sections, as well as the supply of 20 additional LRVs.
Under a separate contract awarded by MPM, the styling of Marseille's distinctive LRV fleet was undertaken by MBD Design, which took as its theme the maritime heritage of this ancient port city. The front end resembles the bow of a ship, while the interior has a nautical feel with seating in wood, plastic and steel. The prominent central headlight is a reminder of the PCC cars on Line 68 prior to refurbishment and will also enable passengers to identify their service, displaying a green light for T1, yellow for T2 and red for T3 which is yet to come.
The new maintenance facility at Saint-Pierre covers an area of 32 000 m², and amongst the 12 000 m² of buildings is the network control centre. The servicing and maintenance building has nine roads, two of which are used for cleaning, replenishing sandboxes and inspecting the undersides of the cars. Three of the seven tracks in the workshop area have inspection pits as well as access to roof-mounted equipment, and there is also a wheel lathe and jacks enabling a complete LRV to lifted. Outside there are 14 stabling tracks which can each accommodate three LRVs.
Building a network
Beyond the current programme, work is expected to begin in 2008 on an extension from Cours Saint-Louis on Line T2 to Castellane, where interchange with metro lines 1 and 2 will be provided. There will also be a branch to Quatre Septembre, and when these routes open in 2011 line T3 will be created to run from Blancarde to Quatre Septembre. Line T2 will then run from Euroméditerranée-Arenc to Castellane.
Blancarde is to become a major transport interchange as it will also be served by the extension of metro Line1 from La Timone to La Fourragère. Work on this extension is well in hand for opening during the third quarter of 2009.
Josiane Beaud, General Manager of public transport operator RTM, says that the guiding principle in creating an integrated bus, tram and metro network for Marseille is to ensure 'that 95% of residents have a stop less than 250 m away and can reach the city centre in 25 min, with one change and on a single ticket'. Key interchanges are being developed to provide connections between Marseille's 140 constituent 'villages' and the tram and metro networks, and 20 bus routes are being modified to feed into the new light rail network where trams operate at 4 min intervals in the peaks.
To complement its striking new LRVs, RTM is to refurbish its fleet of 144 metro cars, and some 60% of the bus fleet has been renewed with 300 new vehicles acquired since 2000. Beaud notes that in this way the three modes enable RTM to offer its customers a high-quality service, while fares remain the same across the integrated network.
RTM holds a 51% stake in Le Tram which was awarded an eight-year delegated public service contract by MPM to operate the light rail network. Its partner is Veolia, and Beaud explains that the private company has been able to draw on its considerable experience of modern light rail operations. Three Veolia personnel are working with the RTM staff who operate the network.
Veolia is also sharing the financial risk of operating the network over the eight-year contract period. Its partnership with RTM enables light rail to be fully integrated with bus and metro on a technical, commercial and operational basis, and Beaud points out that 'fares and ticketing have not been changed, allowing the customer, without any increase in price, to enjoy the benefits of a new mode of transport that is safe, modern and environmentally-friendly'. Opening the network back in July, French President Nicolas Sarkozy had said that it was 'a real step forward in sustainable development', having followed a positive approach by providing a new public transport service rather than punishing the private car.
CAPTION: Top: A purpose-built facility has been built at Saint-Pierre to maintain the Bombardier LRVs. The de pot that maintained the cars for the former Route 68 has been converted into a bus garage
CAPTION: Right: Phase 3 of the light rail programme will extend the network to Quatre Septembre and Castellane by 2011, providing two further interchanges with the metro
CAPTION: The 26 Flexity Outlook cars supplied by Bombardier have been styled by MBD Design to reflect Marseille's maritime heritage
Marseille Flexity Outlook in profile
Gauge mm 1 435
Length m 32·5?
Height mm 3 500
Width mm 2 400
Floor height at entrance mm 355
Minimum curve radius m 25
Maximum gradient 8%
Unladen weight tonnes 42
Supply voltage 750 V DC
Maximum speed km/h 70
Acceleration 0 to 70 km/h m/s² 0·9
Servicing braking m/s² 1·5
Emergency braking m/s² 2·85
Seats 42
Standing passengers at 4/m² 158
Wheelchair spaces 2
Marseille bâtit un réseau
Pour un montant de 423 millions d'euros, la ville française de Marseille construit 11·9 km de lignes de tramway afin de créer un réseau intégré offrant des correspondances faciles avec les autobus et le métro. Le but est de faire en sorte que 95% des résidents devraient être en mesure d'atteindre le centre-ville en 25 minutes; d'autres extensions sont programmées portant à trois le nombre de lignes en exploitation d'ici à 2011. Bien que Veolia apporte l'expertise du secteur privé, la majeure partie du groupe d'exploitation est détenue par le secteur public, ce qui assure l'intégration complète des tarifs et de la billetterie avec le réseau de transport existant
Marseille baut ein Netz
Mit Kosten von 423 Millionen Euro baut die französische Stadt Marseille 11·9 km Stadbahnstrecken für ein integriertes Netz mit guten Verbindungen mit Metro- und Buslinien. Das Ziel ist, dass 95% der Einwohner das Stadtzentrum innerhalb 25 Minuten erreichen können, und zusätzliche Erweiterungen sind geplant, welche 2011 drei Linien im Betrieb sehen. Obwohl Veolia private Erfahrungen einbringt, befindet sich die Mehrheit des Betriebs-Konsortiums in öffentlicher Hand, was sicher stellt, dass Tarife und Fahrscheine mit dem übrigen öffentlichen Verkehrsnetz integriert sind
Marseille construye una red
Con un coste de 423 millones de euros, la ciudad francesa de Marseille construye 11·9 km de líneas de tranvía con el fin de crear una red integrada que proporcione conexiones sencillas con los servicios de bus y metro. El objetivo es que el 95% de los residentes pueda llegar al centro de la ciudad en menos de 25 minutos. Además, se planifican más ampliaciones que concluirán con tres líneas operativas en 2011. Aunque la empresa Veolia proporciona la experiencia del sector privado, la mayor parte del consorcio operador es del sector público, lo que asegura unas tarifas completamente integradas con la red de transportes existente