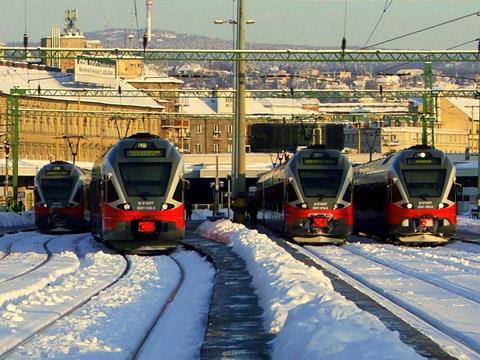 HUNGARY: National passenger operator MÁV-Start Zrt put its final Stadler-built Flirt EMU into service on February 12, marking the completion of an order for 60 units. The final set was delivered more than two months ahead of the original contract schedule, according to the Swiss manufacturer. MÁV-Start's Flirts have already run more than 16 million train-km in service, achieving an availability of 94%.
The first 30 four-car EMUs for Budapest suburban operations were supplied by Stadler under a contract awarded by Hungarian State Railways in 2006. This included an option for a further 30 sets, which was exercised in December 2007, at which time the final train were expected to arrive by the end of April 2010. The final seven EMUs have been assembled at a new plant in Szolnok, which Stadler inaugurated last year. The company is also responsible for maintenance and cleaning of the fleet at Pusztaszabolcs.
The units are used in daily service on the routes from Budapest to Székesfehérvár, Pusztaszabolcs, and Györ, and also operate on the lines to Szob and Eger at weekends. From September they will also take over daily operations on the Budapest – Hatvan route.
Pointing out that 'the objective of MÁV-Start is to provide passengers with convenient, comfortable railway services', CEO Tamás Kozák said introduction of the Flirts had 'brought a change of quality change to Hungarian passenger rail services, especially in the Budapest suburban area'.