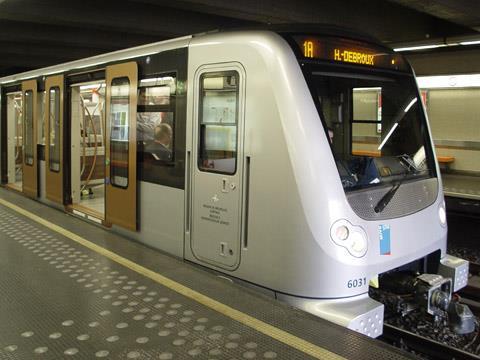 BELGIUM: Presenting its results for 2010 at the beginning of February, Brussels public transport operator STIB unveiled a programme of enhancements to increase network capacity in 2011 and beyond.

STIB carried a total of 311·6 million passengers in 2010, up 7% on the previous year, with the metro handling 48% of traffic and the tram and bus networks 26% each. The operator expects to transport 320 million passengers in 2011. The population of Brussels now exceeds 1·12 million and is forecast to reach 1·2 million inhabitants in 2015.

With the network operating at capacity, STIB is taking steps to cope with the rising demand. Six more CAF metro trains will enter service between March and November, allowing a 2·5 min frequency on the shared section of lines 1 and 5 and increasing capacity by 20%. STIB will also continue its programme to fit ticket gates at all 69 metro stations; installation has already been completed at 24.

Plans to automate the metro have been given the green light, starting with lines 1 and 5 in 2015. The automation project, valued at €629m, includes the acquisition of 43 more trainsets to replace the original 1976 rolling stock, a new depot at Erasmus and complete renewal of the signalling system. Stations would be fitted with platform screen doors. A budget of €7·5m has been allocated for initial studies in 2011-12.

Tram services are also being improved, with trams running more frequently on several routes. Line 94 will be extended from Hermann-Debroux to Woluwe on March 14, providing connections to lines 39 and 44, and two new tram routes will be introduced, using existing tracks. Line 7 between Heizel and Vanderkindere is due to open on March 14, strengthening the service on the orbital Grote Ringlaan. From September, Line 62 will operate between Bordet and Weldoeners, providing interchange to lines 7 and 25.

In the longer term, lines 92 and 94 would be diverted via Gare Centrale, which is expected to double ridership on these routes. A new tram depot will be built at Ukkel to accommodate 75 trams, including 10 of the series T4000 being supplied by Bombardier.