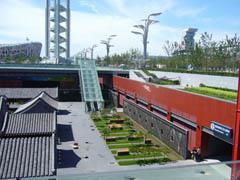 CHINA: Two extensions to the Beijing metro network opened for traffic on July 19, and public services commenced on the dedicated airport link which had been ceremonially inaugurated on June 30.
With the start of the Olympic Games later this month, lines 8 and 10 are designed to ease the journey of thousands of spectators to the sporting venues. Line 10 is an entirely underground route running from Bagou to Jinsong, a distance of 25 km, providing interchange with other lines at four stations, including Sanyuanqiao on the automated line to the airport. Diverging from Line 10 at Beitucheng, Line 8 is a 4·5 km branch serving the Olympic park, with a terminus at South Gate of Forest Park. Use of Line 8 is likely to be restricted to event ticket holders, athletes and officials during the period of the Games.
Built at a total cost of 22·3bn yuan, the extensions take the city's metro network to 200 route-km. Line 4 from Gongyixiqiao in the south of the city to Anheqiao in the northwest is currently under construction; the 28·6 km route is expected to open in the second half of next year.