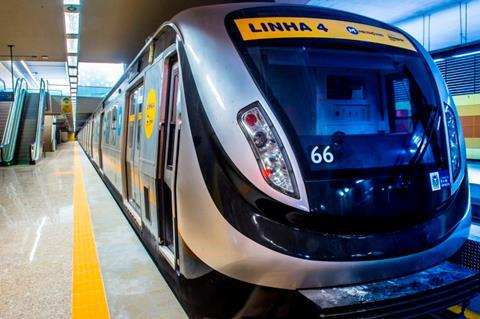 BRAZIL: A report from the National Confederation of Industry suggests that the country's 15 principal cities need to invest heavily in rail-based public transport to improve productivity, competitiveness and the environment.
The Confederação Nacional da Indústria document entitled Urban Mobility in Brazil: Institutional Framework & Proposals for Modernisation estimates that R$295bn would need to be spent by 2043, almost all of it on metro and urban rail projects, in order to bring public transport up to the levels found in comparable cities elsewhere in Latin America such as Santiago and Mexico City.
The study finds that the consequences of accelerated urbanisation and city sprawl in Brazilian cities were 'generally adverse', affecting well-being and productivity because of long journey times and discomfort. It suggests that in the recent past Brazil has under-invested in public transport and 'inversely favours (and subsidises) individual motorised transport, including the pricing of fossil fuels'. Underfunding is 'the biggest bottleneck' for expanding urban public transport, the CNI notes.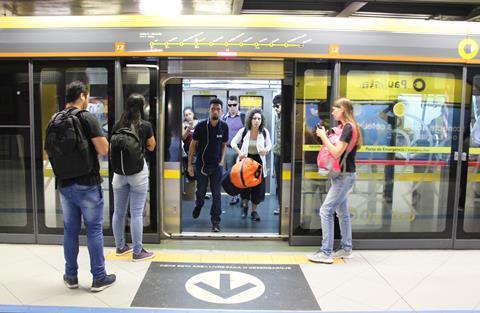 Of the R$295bn total investment needed in public transport over the next two decades, R$271bn should be allocated to expansion of subway and metro networks, the study states. A further R$15bn should be spent on suburban rail services and R$9bn on bus rapid transit.
The study found that the average share of travel by public transport in nine major cities across Brazil was nearly 39%, with Rio de Janeiro scoring nearly 49% and São Paulo 36∙6%; caution is needed with the data, however, as the figure for São Paulo refers to 2017 and that for Rio de Janeiro to 2012.
The share of metro and suburban rail as a percentage of all urban travel was just 5∙4% in Rio de Janeiro and 11% in São Paulo. In Recife the figure was 6∙1% (2018), with just 1∙4% (2009) in Brasilia and 2% (2012) in Belo Horizonte. Buses accounted for 37∙7% in Rio de Janeiro and 19∙8% in São Paulo, with Recife achieving 34∙5% and Salvador (2012) just over 38%.
The 98-page report makes four recommendations:
ensure more effective instruments are available to modernise transport networks, with municipalities improving institutional governance, backed by a municipal law that can be used as a tool to implement mobility plans;
provide metropolitan regions with more effective governance structures, transferring urban transport management to a dedicated organisation;
ensure that sources for financing investment in urban transport infrastructure are viable, recognising that the 15 largest metropolitan regions would need to invest $295bn by 2042; to achieve this, the public-private partnership model with a relatively long concession period (of around 30 years) for construction, operation and maintenance should be expanded;
expand funding sources for investment in transport, including establishing a fund for the economic and financial balance of public transport operators, managed within the scope of the metropolitan regions and fed from revenue sources other than fares.
The report also notes that use of public transport in Rio de Janeiro and São Paulo is tracking below the pre-Covid 19 levels recorded in 2019. In Rio, traffic on the metro is 30% down and on bus services 15% lower. In São Paulo metro and bus travel has fallen by about 25%.
Writing in the forward to the study, CNI President Robson Braga de Andrade says that the 'sprawl of cities brought adverse consequences for mobility, so that the long time spent travelling to the centre of urban areas has caused negative consequences on labour productivity, the environment, the competitiveness of industry and the well-being of the Brazilian population'.