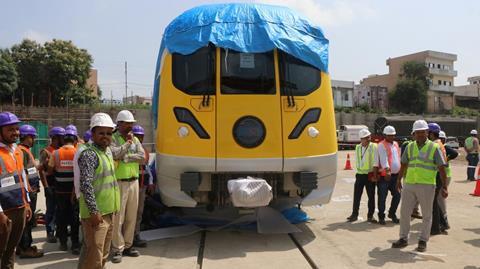 INDIA: Alstom has delivered the first of 52 trainsets it is to supply for the Bhopal and Indore metros.
Madhya Pradesh Metro Rail Corp undertook a combined procurement for the two metro projects, awarding Alstom a €387m contract in July 2022 which covers the supply of 52 three-car Movia metro trains and the provision of 15 years of maintenance. It also covers the supply of communications-based train control and telecoms with seven years of maintenance.
This was Alstom's second combined order for Indian metro trains, after a contract covering both the Agra and Kanpur projects.
The order includes 25 trainsets for Indore's 31·5 km Yellow Line with 29 stations which is scheduled to open in April 2024, and 27 trainsets for the 31 km two-line metro with 29 stations which is under construction in Bhopal.
Manufacturing is being undertaken at Alstom's Savli plant in Gujarat. The first trainset was delivered to Indore on August 31, just 14½ months after the notice to proceed was issued. The second train is expected to be delivered to Bhopal by September 20.
The lightweight stainless steel 1 435 mm gauge trainsets will have a maximum speed of 80 km/h.
Alstom said there is a 'strong emphasis on eco-friendly design to eliminate hazardous substances providing a safer environment for passengers', with features including the use of 'modern energy efficient propulsion systems', regenerative braking and the use of smart and ambient lighting. The Train Control & Management System includes an automatic track inspection system.
The air-conditioned interior has a capacity of 50 seated and 300 standing passengers, with a dedicated space for wheelchair users.
Security systems include CCTV with unattended object identification and passenger counting to aid with evacuation if required. There is the ability communicate with the train operator and the control centre in an emergency.