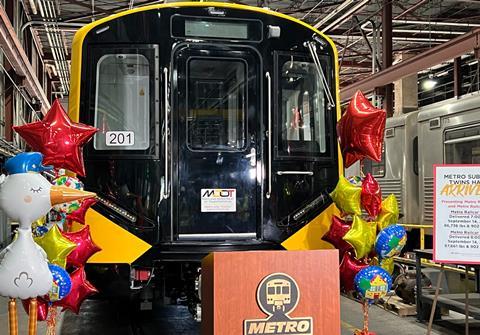 USA: Maryland Transit Administration has unveiled the first of 78 metro cars being supplied by Hitachi Rail to replace the existing fleet on the Baltimore Metro Subway Link.
MTA said on September 14 that the new vehicles would represent 'a significant leap forward in our mission to enhance the transit rider experience in Baltimore, ensuring efficient and rapid transit for all'.
In July 2017 MTA awarded the Hitachi Ansaldo Baltimore Rail Partners joint venture a $400·5m contract to supply new trains for the city's single 25 km heavy metro line and to replace the existing signalling with communications-based train control.
Taking power at 700 V DC from a third rail supply, the new vehicles will operate as 39 married pairs. The trains are being produced at Hitachi Rail's facility in Miami, and are now expected to enter service in 2024-26. They will replace vehicles which have been in operation since the Metro Subway Link opened in November 1983.
Built by Budd subsidiary Transit America, the original Baltimore fleet comprised 100 Universal Transit Vehicles; it was supplied under a joint procurement with Miami's Metrorail. The new cars will be similar to those that Hitachi Rail supplied to replace the Miami vehicles in 2017-20. Baltimore's replacement fleet will be smaller, as MTA found current demand levels could be met despite some of the original cars being taken out of service. Route expansion plans have also been dropped.