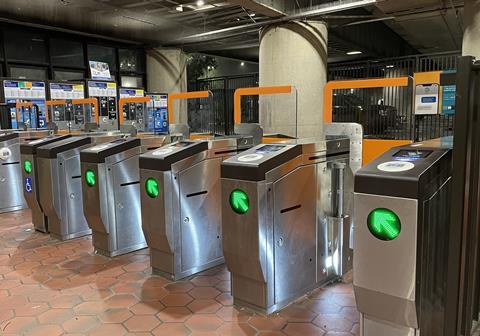 USA: Washington DC area metro operator WMATA has begun installing higher and stronger ticket gates as part of efforts to reduce fare evasion.
An L-shape door panel minimise gaps between the openings, and the increase in height from 710 to 1 400 mm makes it harder for potential fare evaders to jump over.
The swing doors are made of a polycarbonate which is stronger than glass, lighter in weight and more durable, with more robust hinges and a more powerful motor. WMATA is also raising the height of fencing and emergency gates as stations are retrofitted with the new barriers.
'Over the past several months, our team has been testing different prototypes to get to this final design', said WMATA General Manager & CEO Randy Clarke when the first gates were installed at Fort Totten station during July. 'We have already seen a reduction in fare evasion and expect the higher gates will be more of a deterrent.'