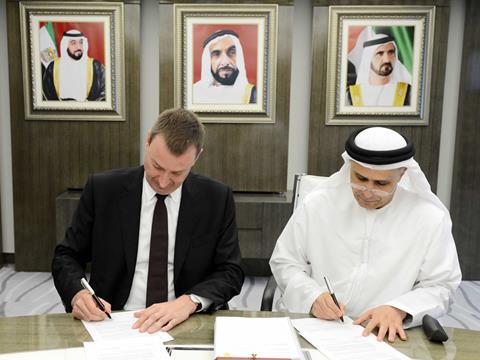 UAE: National railway project promoter Etihad Rail has signed an operations and maintenance joint venture agreement with DB Schenker Rail.
The Etihad Rail DB joint venture will initially provide operations and maintenance expertise for the 264 km Phase 1 of the network. Test running is now underway and commercial freight operations are expected to begin this year, carrying granulated sulphur from Shah and Habshan to Ruwais for export.
The joint venture will also act as consultant for operations on the future stages of the Etihad Rail network, which could be undertake by a different partner.
'Facilitating knowledge transfer and sharing of best practices, the joint venture is a very positive step forward for Etihad Rail, furthering our commitment to provide the UAE with a world-class, modern, integrated and efficient rail network that will drive economic growth and social development.', said Nasser Al Suwaidi, Chairman of Etihad Rail.
The Etihad Rail project was described in detail in the February 2014 issue of Railway Gazette International, which subscribers can access in the digital archive