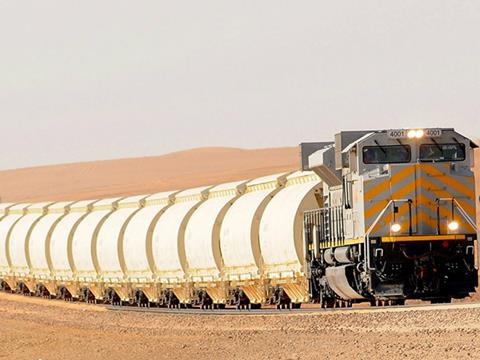 MIDDLE EAST: The importance of harmonising standards across railway projects to enable the development of a coherent and interoperable network across the Gulf region was highlighted at the 1st International Conference on Railway Interoperability, Standardisation & Harmonisation in the Middle East.
The event in Doha on March 30-31 was organised by international railway co-operation organisations UIC, OTIF, CIT and host Qatar Rail. Attendees represented transport authorities and railway companies from Afghanistan, Iran, Kuwait, Morocco, Oman, Qatar, Saudi Arabia, Turkey and the UAE, as well as the supply industry and academia.
The focus was on three major themes: the legal framework for interoperability; technical harmonisation and standardisation; and safety.
Presentations and discussion focused on a number of topics:
The legal framework for interoperability (presented by OTIF);
Harmonisation and standardisation (UIC and Qatar Rail);
Safety (OTIF and UIC);
Harmonisation and interoperability for the planned GCC railway (World Bank and GCC Secretariat General);
Harmonisation of cross-border passenger and freight transport (CIT);
UIC activities to harmonise rail freight operations (UIC);
Customs and immigration interoperability (DB International on behalf of Qatar Rail);
Suppliers' views on interoperability (Huawei and Alstom Transport);
Data exchange (railML).
'Currently, the Middle East region is the part of the world with the most ambitious projects and most advanced achievements in the field of rail transportation', said UIC Director General Jean-Pierre Loubinoux in his opening speech. 'The presence of multiple perspectives underlines the imperative need to use common standards, common rules for operations and common legal systems. With interoperability and seamless cross-border operations, railways will be able to offer all the advantages of the rail system to the markets.'
Separately, the UK's Middle East Association held a rail sector industry briefing in London on March 26. Mike Shears of UK Trade & Investment's High-Value Opportunities programme highlighted that at present 'everything for the GCC railway is being done in silos'. As a result, 'every country is busy building their own internal railway', with a lack of cross-border co-ordination.
To help tackle this, a GCC rail regulation board is planned, which would work to ensure common standards across the various projects.
Shears also highlighted the GCC countries' desire to develop local skills though procurement of high-quality training services from countries with long-established railway sectors.
Initial design work for the Saudi Landbridge project and links between existing Saudi lines and the planned GCC rail network is nearing completion, and tenders for construction are expected to be called later this year.