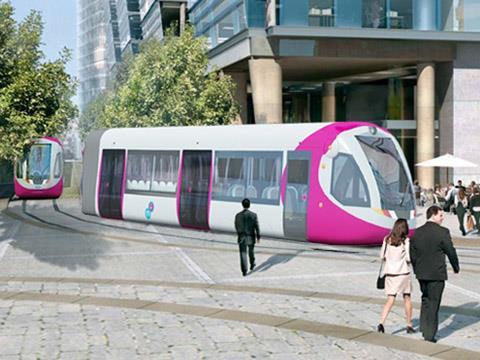 UK: On March 18 Transport Minister Chris Mole announced initial approval for a 1·4 km extension of the Midland Metro light rail line into Birmingham city centre, and the procurement of 20 higher-capacity trams to replace the 16 Ansaldo cars which have been used on the 20 km Birmingham - Wolverhampton route since it opened in 1999.
Local transport authority Centro submitted its business case to the Department for Transport last October. The government has agreed to contribute £81m towards the £127m project, subject to the availability of funds and costs remaining unchanged.
Centro has already obtained planning permission and expects to receive final DfT approval 'very quickly', allowing it to reduce costs by co-ordinating the project with city centre redevelopment works which are currently underway. Tenders should be called this autumn, with a view to construction starting in 2012 for opening in 2014-15.
From a new stop at Snow Hill station, the extension will run via Bull Street and Corporation Street to terminate at a new entrance to the main New Street railway station, which is undergoing major reconstruction. The Midland Metro maintenance depot will be rebuilt and stops lengthened to accommodate the longer trams.
Centro is continuing to develop plans for extensions to Brierley Hill and Stourbridge and a loop in central Wolverhampton.