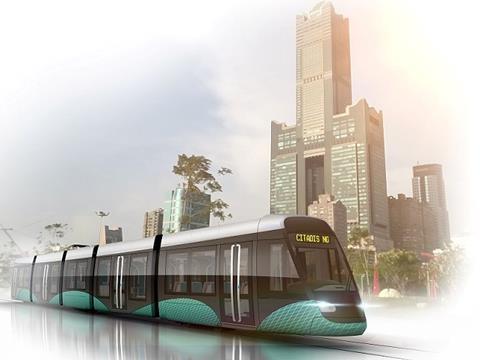 TAIWAN: China Steel Corp has awarded Alstom a contract to supply 15 Citadis X05 trams for the second phase of the Kaohsiung tram project.
To be assembled in La Rochelle, with components coming from Alstom sites in France and Italy, the trams will be equipped with permanent magnet traction motors and roof-mounted Citadis Ecopack supercapacitor units to allow catenary-free operation. These would be recharged through the catenary at stops, which would take 20 sec.
The 13·4 km extension is due to open in 2019 and would serve 23 stops. Earlier this month Thales was awarded the signalling contract for the second phase, which would create a circular route 22·1 km long with 37 stops.
In October 2015 trial operations started on part of the first phase between Lizihnei and Kaisyuan Jhonghua, which was extended in June by one stop to Kaohsiung Exhibition Centre.
CAF has supplied a fleet of five-section trams for the first phase, which are equipped with ACR onboard energy storage. CAF has also supplied the signalling for the first phase.