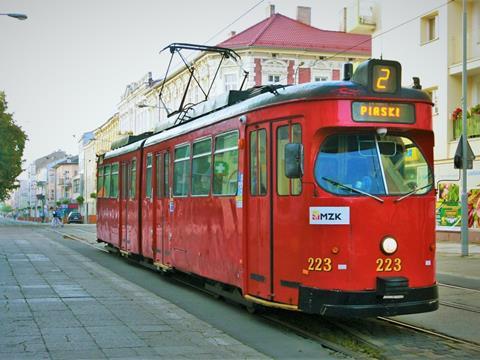 POLAND: On October 1 services on the entire tram network in Gorzów Wielkopolski will be suspended for around a year for modernisation and extension, ahead of entry into service of an entire new fleet.
Under a 225m złoty project, the city is modernising track on 11 route-km of its 12·2 km network, while 3 km of extensions are to be built. The EU is contributing 37·5m złoty.
The scheme also includes replacement of the fleet of 18 trams with 14 low-floor trams that transport authority MZK has ordered from Pesa for 115·1m złoty. The first of the three-section bidirectional trams from Pesa's Twist family is due to arrive in Gorzów in October 2018, and the contract includes options for up to six more.
MZK Gorzów's fleet currently comprises 13 trams dating from 1966 and five from 1970, bought second-hand from Kassel. Five are to be scrapped and the rest will be held in reserve.
Buses will replace trams for the length of the closure. On September 29-30 several events will take place to say goodbye to the old trams, including an opportunity for residents to paint and write messages on a tram.