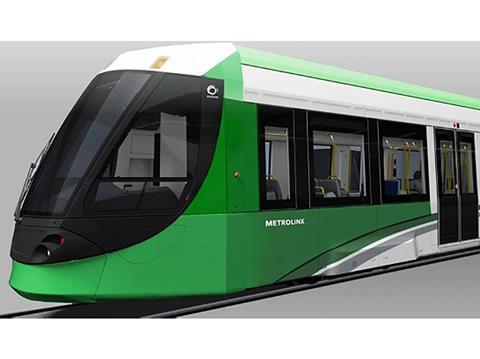 CANADA: Greater Toronto & Hamilton Area transport authority Metrolinx has awarded Alstom a firm order to supply 61 Citadis Spirit light rail vehicles for C$529m. The order announced on May 12 includes options for more vehicles.
Alstom is to supply 17 vehicles for the Finch West LRT project, with the other 44 to be put into service on the Eglinton Crosstown LRT line, which is due to open in 2021. Metrolinx ordered a fleet of Bombardier LRVs for Eglinton Crosstown in 2010, but subsequently launched legal proceedings against the supplier over what it claimed were a series of delays to production of these and LRVs allocated to other projects.
Should Bombardier deliver the Eglinton Crosstown LRVs on time, the 44 Alstom LRVs would be reassigned to the Hurontario LRT project.
'We are going through a dispute resolution process with Bombardier, but that could take eight to 12 months, and we can't wait that long to determine whether Bombardier will be able to deliver', explained Metrolinx CEO John Jensen. 'We are hopeful that Bombardier can get its program on track. However, the steps we are taking give us a safety net if it turns out Bombardier is unable to fulfil its contract.'
Each 48 m long 100% low-floor Citadis Spirit would have capacity for 321 passengers. They will be winterised for the Canadian market, with reinforced insulation and powerful HVAC enabling the vehicles to operate in temperatures as low as -38°C.
Alstom is currently supplying 34 Citadis Spirit LRVs to operate on Ottawa's Confederation Line under a contract signed in 2013.
'We know for sure that Alstom's light rail vehicles work', said Jensen, referring to the Ottawa order. 'Our end goal remains opening our LRT projects on time with high-quality vehicles that will provide excellent service to the people of this region. This new contract with Alstom provides flexibility to ensure that happens.'