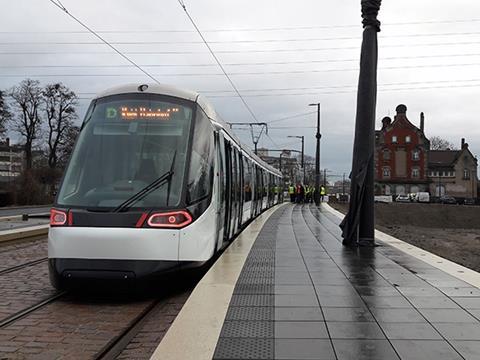 FRANCE: Compagnie des Transports Strasbourgeois has exercised an option to order 10 more Alstom Citadis trams for €28m. This will bring the number of Citadis trams operated by CTS to 63, with the first order placed in 2003.
The option announced on February 3 forms part of a framework agreement signed in November 2014 for up to 50 trams. Deliveries of the 12 trams from the base order, worth €41m, are due to be completed in May, the first having arrived in Strasbourg in October.
Due to enter service at the end of April, the new trams will run on lines A and D. Line A is being extended 1·7 km south to Illkirch-Graffenstaden and Line D is being extended 3·9 km over the German border to Kehl. The vehicles will therefore meet BOStrab standards. Technical and gauge tests of the Citadis trams on the German portion of Line D began on February 3.
Alstom is also installing overhead wires for the Line D extension, and is responsible for laying 300 m of track on the Rhine Bridge.
The 45 m long trams will be assembled at La Rochelle, with traction motors from Ornans, traction equipment from Tarbes, electronics from Villeurbanne, and bogies from Le Creusot and Salzgitter.