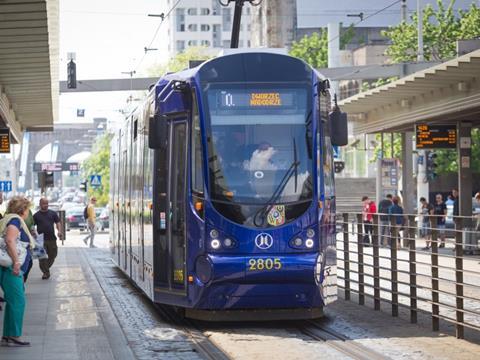 POLAND: Transport authority MPK Wrocław has ordered a further 13 Moderus Beta trams from Modertrans for 50m złoty. The partly low-floor vehicles are due to be delivered by the end of 2017.
The latest order calls off the remaining options from a 23m złoty contract placed in 2015. The six unidirectional trams from the base order were delivered in 2015, and the three vehicles forming the 11·5m złoty first option are due to arrive in Wrocław in the first quarter of 2017.
MPK plans to buy a further 40 trams as part of a fleet modernisation programme in response the 'urgent' need to replace the oldest of the 130 high-floor Konstal 105Na and 105NWr trams dating from 1975-91. It is envisaged that the purchases will be 75% co-financed by EU funds, and deliveries are due to be completed by the end of 2019.