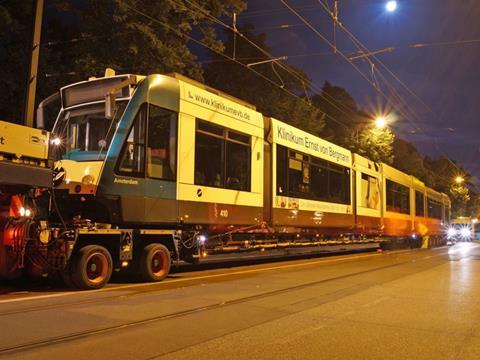 GERMANY: The first of eight Combino trams that Siemens is lengthening for ViP Verkehrsbetrieb Potsdam returned to the city on September 7.
Work started earlier this year on a €50m project to lengthen eight of the five-section trams to 42 m. Siemens is producing two intermediate sections, 3 m and 7 m long, for each tram, which are being inserted at Wildenrath. The enlargement adds two sets of doors, giving each tram eight. The increase in capacity from 175 to 246 passengers is part of ViP's goal to transport 15 000 more passengers per day in 2025.
Three of the longer trams are planned to be in service for the opening of a norther extension of the network to Campus Jungfernsee in December. All eight would be delivered by 2019. An enlargement of ViP's workshops to accommodate the longer trams is due to begin later this month.
The trams were built by Siemens in 2000-01.