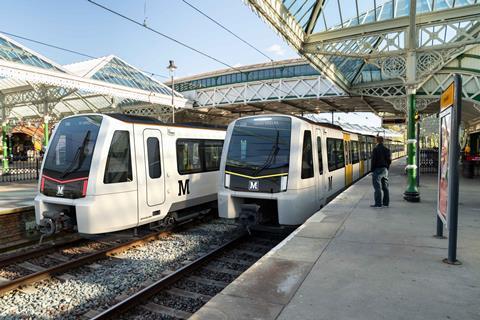 UK: Transport authority Nexus has selected Stadler to supply and maintain a new fleet of trains for the Tyne & Wear Metro, as part of a £362m investment package to modernise the 77·5 km network which is currently carrying around 36 million passengers/year.
Announcing the decision on January 28, Nexus said it had awarded a £300m contract to Stadler to build the trains and a new depot. The investment is backed by a £337m grant from the Department for Transport, which will also provide revenue support to help cover the cost of maintaining the trains over the next 35 years.
The base contract covers the supply of 42 articulated five-car units, which are due for delivery in 2022-24, replacing the existing fleet of 89 articulated two-section LRVs dating from the early 1980s. There is an option for a further four trains to be ordered if Nexus wins additional funding to increase service frequencies under its £110m Flow Project.
The new trains will be built to main line crashworthiness standards to enable operation on the route to Sunderland and South Hylton; the current lightweight Metrocars have an exemption to share tracks with national rail services based on enhanced train protection systems, but this exemption will no longer be required.
The Stadler trains will also be equipped with onboard storage to capture regenerated braking energy, reducing overall power consumption by up to 30%. The batteries will provide for up to 45 min of off-wire operation away from the 1·5 kV DC traction supply.
As well as onboard wi-fi and charging points, the air-conditioned trains will be fitted with an automatic sliding step at every door, improving accessibility for passengers with reduced mobility, as well as people with buggies, luggage or bicycles. Each train will have capacity for up to 600 passengers, as well as four wheelchair spaces.
As part of the deal, Stadler will maintain the fleet for 35 years, building a £70m maintenance facility on the site of the current metro depot at South Gosforth and employing around 100 people. Nexus said the total value of the partnership could reach £700m, 'depending on performance'. Nexus has appointed Buckingham Group to build a £20m satellite depot at Howdon where trains can be outstabled during the reconstruction at Gosforth.
The authority said it had selected Stadler after 'an 18-month global search for the best manufacturing partner'. The Swiss company is currently delivering new trains for the Glasgow Subway and the Merseyrail network in Liverpool. The trains are to be assembled in Switzerland to a bespoke design, but Nexus said Stadler would 'work with more than 30 new supply chain partners in the UK advanced manufacturing, technology and construction sectors, half of them in northeast England, creating and securing hundreds of skilled jobs'.
'We have a bold vision for transport in northeast England, and a world-class Metro system is the key to unlocking this transformation', said Councillor Martin Gannon, Leader of Gateshead Council and Chair of the Joint Transport Committee for North East England. 'We have secured government investment in our region for new Metro trains which will meet the needs of our people for decades to come, secure hundreds of jobs and help us tackle the climate emergency.'